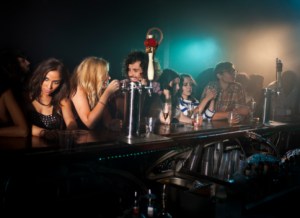 In the past few months, The Observer and the rest of the online community has witnessed a whirlwind rise in popularity of mobile, app-based deal companies. Well, here is yet another one claiming to offer you a good deal.
New York has now been "Poggled."
Though the brainchild of the Groupon family, "Poggled is not Groupon," the site's co-founder Joe Matthews told The Observer in an interview.
What began as a business school start-up, Poggled was initially designed to be a social networking site for avid partiers, but it caught the attention of Groupon investors Eric Lefkosky and Brad Keywell and with their generous support, the flailing knock-off was converted into the coupon company it is today.
Like Groupon, the site posts daily deals. But rather than the random deals that appear in our inboxes daily, Poggled is tailored entirely to promoting nightlife.
"Poggled wants people at the best bars, every night" said Mr. Matthews. Consequently, Poggled deals don't expire like Groupon.
"Our deals are up forever," Mr. Matthews told The Observer. The idea being that if you have a good time one night, why not do it all again the following night, and the night after that, and the night after that, and then again the night after that?
Poggled.com also allows subscribers to link their accounts with Facebook, Foursquare and Twitter and automatically keep their friends abreast of their location. Finally, no more texts at 3am from your AWOL friend identifying their location as "tha4 majhaatt."
According to Mr. Matthews it took 4 or 5 months following the site's launch for Poggled to hit its stride, but he believes that in that trial-and-error period they discovered the formula for the rapid success of the product.
Poggled launched its New York iteration on June 27. Currently partnered with about a dozen NYC establishments, Mr. Matthews believes the website will have close to 30 partnerships by the end of this week.
Already at full-steam in the Midwest, Poggled Chicago posts around 100 deals a day. Yet, Mr. Matthews has his sights set higher for the Big Apple. "Our ultimate goal for New York City is deals with 200-300 bars and 100,000-200,000 online subscribers," the co-founder proclaimed.
To reach this goal, Poggled conducts extensive research on a bar or club before contacting them to make a deal. "We want people to go out with their friends and have a good, good time." When Poggled targets a bar to promote, "it is not so much about the venue, but more the environment, we are looking for the best atmosphere," said Mr. Matthews.
Curious to see if Poggled was already living up to the hype, The Observer spoke with Matthew Hecht, owner of Sip Bar on the Upper West Side, one of the first New York joints to partner with Poggled. Currently, the site is offering a "$1 for $20 Worth of Food & Drinks" coupon for Sip Bar. Mr. Hecht said that the impact hasn't been huge, but some people with Poggled coupons do come in. Mr. Hecht is excited about Poggled, as Sip Bar did well with Groupon's help. Sip has a 3-month contract with Poggled and Mr. Hecht is optimistic about its potential for New York City nightlife. Although he admitted that thus far, "it certainly hasn't had the same type of sales [as Groupon]."
Mr. Matthews boasts a "success-proven" business plan to reach his goal for the City and it begins with parties. According to Mr. Matthews, Poggled-sponsored parties have the perfect formula for success, which among other things (locked away in the company's brand safe) includes: "the perfect girl-to-guy ratio, the best venues, and the best nightly deals."
The Observer has good reason to believe he is right. After all, "Poggled" is the Old English word for "tipsy."