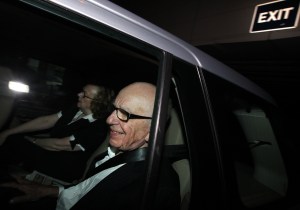 It's officially too hot in New York. Look, the 70's were fun and the 80's were tolerable, but the 90's are much better suited to Ace of Base and the United Colors of Benetton than to average temperatures in Central Park. Riding the subway has felt like descending into the fiery pits of Hades—especially over the weekend, when swarms of black-cloaked wizards gathered en route to see the final Harry Potter movie, which shattered box office records with a $168 million opening weekend (and tortured one of our reporters—see page 14). Meanwhile, Sarah Palin's The Undefeated continued to undermine its own title with a take that failed to crack $100,000 and an approval score of 0% on Rotten Tomatoes, a feat matched only by such classics as The Garbage Pail Kids Movie and Highlander II: The Quickening.
Similarly defeated this week was News Corp.'s flame-haired executive Rebekah Brooks, whose blood has been lusted for by the public since the hacking scandal broke. Good news, though—the website hasrebekahbrooksbeenarrestedyet.com finally got updated Sunday, when the erstwhile CEO
of Rupert Murdoch's News International was taken into police custody following her Friday resignation! For those keeping score (or organizing News of the World Fantasy Leagues, in which case, we want in), this makes 11 arrests, seven resignations—including the head of Scotland Yard—and one death (a former NotW journalist and early whistleblower who was found dead Monday), unless you count Murdoch Sr.'s fake-out demise, reported on the front page of The Sun's website Tuesday morning courtesy of hacker group LulzSec. The media mogul apparently "ingested a large quantity of palladium before stumbling into his famous topiary garden," which might not seem like such a bad idea if LulzSec makes good on its promise to release incriminating emails. (Then again, he could just unleash his wife, Wendi Deng Murdoch, who swiftly deflected a guerilla pie attack intended for Mr. Murdoch at Tuesday's parliament hearing—and then, according to eyewitnesses, shoved the confection in the attacker's face.)
Not that we don't have some pie on our faces stateside. Casey Anthony was released from jail, and may be planning reconstructive surgery to avoid the vigilante beat-downs that have already been visited upon innocent lookalikes. Auto-tune YouTube sensation Rebecca Black released a second single. L.A.'s overhyped closing of the 405 freeway last weekend—prematurely dubbed Carmaggedon—failed to make traffic any worse than usual. People's Daily, a Chinese Communist newspaper, leased space in capitalist icon (and seasonal, oversized LiteBrite) the Empire State Building. The Times's second most popular David, David Brooks, once again took the GOP to task for failing to take the opportunity to cut government spending, writing that Ms. Palin and Michele Bachmann "produce tweets, not laws." (Burn!)
And, of course, there was the U.S women's soccer team, who suffered defeat at the hands (feet?) of Japan in the World Cup Final Sunday—but not before President Obama took a time-out from his debt-ceiling stress eating to tweet a message of support to the team, signing it "Let's go. –BO", which sounds like a winning reelection campaign slogan (or deodorant tagline) if we've ever heard one. Meanwhile, Bill Clinton boasted to The National Memo that he would raise the debt ceiling all by his lonesome and "force the courts to stop me" rather than letting Congress stall. So far, Congress seems unimpressed.
In happier news, the courts can no longer stop same-sex couples from marrying legally in the state of New York, starting June 24—a rare Sunday opening for the county clerk's office that's drawn so many applications that Mayor Bloomberg has instituted a lottery system to choose who's first in line to wed. Sure, it's supposed to close in on 100 degrees this weekend, but that fills us with a whole different kind of warmth.