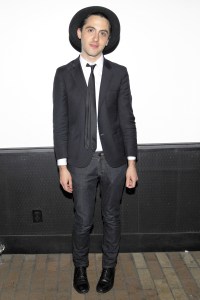 It was a very expensive breakfast at Tiffany's.
This morning, the bigwigs at the CFDA/Vogue Fashion Fund — foundation executive director Stephan Kolb and Anna Wintour among them — handed over some fat checks to jewelry designers Monique Péan and Eddie Borgo. As recipients of Tiffany & Co. grants, Ms. Péan will receive $150,000 and Mr. Borgo will get $100,000.
The grants were awarded in a ceremony at the Tiffany Salon on Fifth Avenue.
In related news, The Observer ran into Mr. Borgo late at night two Fridays ago at Ruschmeyer's, the newly revamped grown-up club house way out in Montauk. We said a hello and, with a sincerely warm smile, he greeted us and then went back to the bar with his dancing partner. In retrospect, we really should have asked him to buy us a drink. $100,000 can get you a lot of vodka and sodas, even in Montauk.