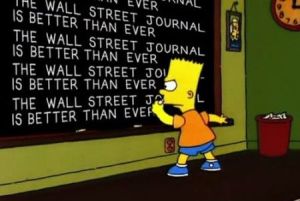 After yesterday's editorial embarassment, Wall Street Journal editorial features editor Robert Pollack wrote a bylined follow-up article to say Rupert Murdoch has never guided the paper's content.
"If you want an example of editorial independence at News Corp. , look at how often The Simpsons mock their broadcasters at Fox," he wrote.
Rupert Murdoch has been relying on his Simpsons cameo for proof of his editorial disengagement for way, way, too long, and, like his offer to fly commercial to London appease the angry masses (revealed in the Times front page story today) it is Marie Antoinette-level delusional and insufficient. Plus, let's not forget that he threatened to cannibalize his own company over a Fox News  on the Simpsons joke in 2003.
In other media news, The New York Times Arts section ran a '90s-themed package today. Not really, but almost. '90s was the theme of Pitchfork Music Festival, according to Jon Caramanica, and–in the most annoying victory of Facebook activism on record–Nickelodeon will begin airing old kids' programming for wistful twenty-somethings in a late night block called The 90s Are All That. We can only think of this this as group therapy. Perhaps when we realize the shows (Kenan and Kel, Doug, and Clarissa Explains it All) are not actually good we can break down the psychological barrier stopping us from producing some culture that isn't juvenile/derivative/referential/nostalgic.
New York magazine named 21 New Media Innovators. We don't know what that means either and we can't think of one thing they have in common, except that you've already read something more interesting about them elsewhere, starting with their own Twitters and Tumblrs. Worse, there are no pictures.