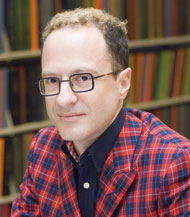 In the mother of all book trailers, the good folks at Picador released a series of Youtube videos starring Wayne Koestenbaum, whose book Humiliation comes out in August. The series is called, appropriately, "Dear Wayne, I've Been Humiliated," and involves the author reading letters and offering advice. He wears a pink shirt and has a tuft of strangely blonde hair resting atop his brunette 'do. The topics of humiliation range from "I farted in yoga" ("Farting in yoga is just the intrusion into a polite space of one bit of the news of your mortality") to personal e-mails mistakenly sent to co-workers ("you have to take the epicenter of your shame and turn it around into your identity").
The Observer's favorite letter is from someone at a book party who begins trashing a highly praised book, then proceeds to "disparage the author as a dilettante, a philistine and a jerk. I even said some nasty things about his author photo—lazy eyed." Under the best circumstances, book parties are about as embarrassing as a high school dance or that dream where you forget to put on clothes before going to work in the morning. Of course, the author was present, and listening in calm silence. "His eye was fine," the letter writer recalls. Mr. Koestenbaum says:
The notion of a party at which people are discussing a new highly praised book, even, like, miles away from that I feel humiliated…I would write a really, really, really long letter of apology to this writer. I'd say 15 pages, single-spaced. I'd make it a rhetorical tour de force. Highly constructed, Nabokovian, intricate, self-reflexive, utterly abject. You will be doing penance in such a spectacular and self-mortifying way that you will erase all memory of your crime. I would really seriously recommend dedicated your next book to this person you humiliated, or naming your next child after this person, or tattooing that person's name on your first born child.
Effective advice, Mr. Koestenbaum, but if The Observer had to write a 15 pages every time we embarrassed ourselves in front of a highly-praised author, we'd probably have to quit our jobs and dedicate ourselves full-time to the endeavor.