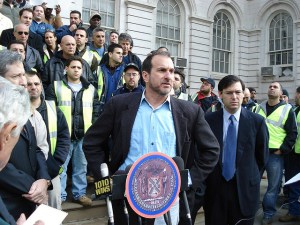 In another sign President Obama isn't making friends on the left, or right, with his fiscal policies, out comes a harsh email from the labor-backed Working Families Party saying Obama shouldn't respond to Republicans with "timidity."
The outrage is over Obama signaling he may accept the GOP's push for cuts to Social Security and Medicare to close the federal budget fight.
"The proper response to Republican thuggery should not be Democratic timidity," the WFP Executive Director, Dan Cantor, wrote. Cantor warned that Republicans are trying to "undo the New Deal" which will "hurt a fragile recovery and it will damage the lives of seniors and the disabled."
Politically, Democrats have been quick to defend the program.
Protecting Medicaid from Republican cuts was the key issue that helped Democrat Kathy Hochul capture an upstate congressional seat that had been a Republican stronghold for forty years.