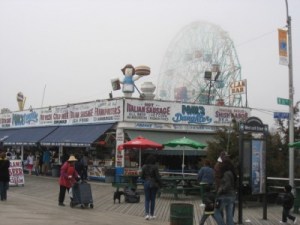 Will this be the last, real summer in Coney Island, or the dawning of a new day that will see the storied Sodom by the Sea returned to its former glory?The Scream Zone opened back in May, bringing another roller coaster and a larger amusement park to the boardwalk than there had been in decades. The boardwalk, though, is becoming a concretewalk of sorts, and fears pervades that the once gritty strip will, like Times Square and the Bowery and so many other corners of the city, be scrubbed clean. Then again, we've been here before, four years running.
The headline in The Times today is drab, "At Summer's End, 7 Shops Will Vanish From Coney Island's Boardwalk," but the accompanying video report, "The Last Summer," if a bit dramatic, is also direct. But there still could be some hope.
In the article, the paper sits down with the head of Central Amusements International, the Italian amusement operator that won a decade-long contract to revive the Coney Island amusement park, an effort that, at least by dint of ticket sales sunbathers, is succeeding. But what about that elusive heart and soul? As The Times notes, in selecting the Italians, the city "was concentrating less on nostalgia and more on economics."
"We will never make Disney here," [CAI President Valerio] Ferrari said. "But it will be something more …" — he searched for the words — "refined, cleaner. A little more year-round, if it's possible, with sit-down restaurants and sports bars."

Mr. Ferrari was blunt about why he did not renew leases for the Suhs and six other longtime businesses. "We don't have the same vision," he said. "They like the way it is, and we don't."
There is some hope, though, for the nostalgists, too. CAI will let Nathan's stay—the foreigner would have been driven right back out of town if not—but also the hipster chic Lola Starr's. And The Times reveals that a family of Libyan Jews who have been operating shops in the area will expand their third into one of the seven vacated storefronts, so let the locals rejoice.
Then again, NY1 recently reported that a Miami Beach impresario has been tapped to set up many of the Coney eateries, so what does that say for local culture. (Well, Miami Beach is practically an outer-outer borough, so…)
We may not be raising pints at Ruby's anymore, but Pacific Sunwear and the Sunglass Hut need not apply just yet.