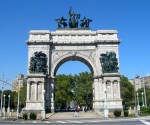 The latest in our series on the neighborhoods of New York.
Windsor Knot: It's Knot Park Slope. How's that for a slogan?
"I like this area because it's generally pretty quiet and it feels different from Park Slope," said 43-year-old music teacher Pete Heitmann of the neighborhood at the convergence of Windsor Terrace, Prospect Park and Kensington. "People have been more rooted here for a longer time so there's an old neighborhood feel."
Windsor Knot is like the less pretentious (and less expensive) version of the Slope. Maybe not quite as upscale and trendy as that redoubt of the carefully hip, with its high-end boutiques and pricey restaurants, but still a good place to raise the kids. And, indeed, we did pass a lot of strollers and family picnics on our walk through the area. It's a nice slice of suburbia in the City That Never Sleeps.
"It's a good place for families," said Alexandra Poshtaruk, a 25-year-old medical technology student. "There's more space, lots of parks, good schools." She pointed out another upside for fans of the all-American family: "You can take your dog anywhere."
Ms. Poshtaruk also noted the influx of "yuppies and hipsters"—sound familiar?
Speaking of, we also ran into a 33-year-old Kensington resident who works for a literary agency. He was reading on a Prospect Park bench. He, too, noted the reasonable prices and open space of Windsor Knot, but… "The one thing I don't like about this area is there aren't a lot of great restaurants," said Aaron Rich, who has lived in Kensington for four years, but was previously accustomed to Manhattan's plethora of dining options.
Despite noting the less exciting lifestyle Windsor Knot has to offer, everyone we talked to said they appreciated the quiet and calm of the neighborhood. Mr. Heitmann told us: "Some days I definitely wish for the vibrancy of Manhattan, but other days I'm thankful for the peace of mind this part of town provides."
pengel@observer.com