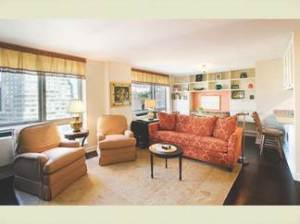 The average price of a Manhattan apartment in the second quarter of 2011 was roughly $1.455 million, according to the various housing report released late last week.
What does that get you?  
At 1965 Broadway, near Lincoln Center on the Upper West Side, $1.48 million will buy 933 square feet, large windows, a view of Broadway and renovated space in a luxury building. The price per square foot (about $1,586) is above the average of $1,068 for the second quarter of 2011, but this is a "luxury condominium" after all.
The dark hardwood floors in the living area, granite countertops in the kitchen and marble floors in the bathroom make the space feel opulent yet comfortable, and the rooms aren't exactly spacious but they still don't feel cramped. The washer and dryer are shoved into a nook at the end of the kitchen, but it's better than having to trek loads of clothes to the basement of the building (perhaps that's the secret sign of affluence in Manhattan—a W/D?).
For those looking to squeeze more people into the small one-bedroom, the dining area (complete with a wall of built-in bookshelves) can be converted into a bedroom or den, albeit a small one. "It won't be huge, but it would afford privacy," Jeffrey Stockwell, the listing broker from Stribling, said. The seller used it as a pied-a-terre, but was not in the city enough to justify keeping it.
The building itself is also worth noting. It has concierge and valet services as well as a 24-hour doorman, and the lobby is spacious and has a hip vibe. The red canvas paintings, simple black leather couches, orchids and dark-wood paneled wall (across from a wall made out of huge chunks of what looks like lit-up, transparent marble) feel peaceful and zen-like. And 1965 Broadway has an attractive location only a block and a half away from Central Park.
This might be a great "starter home" for a budding Master of the Universe. For those not slightly above average in income, the average apartment might be a bit out of reach. Brooklyn housing numbers hit later this week.
pengel@observer.com