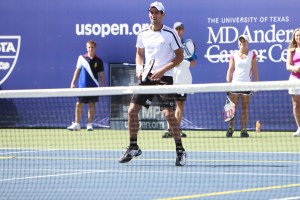 Wednesday, August 24
Bassline
What better way to kick off a late-summer festival in celebration of extraordinary athleticism than with the sweatiest, most athletic music act in the game? Girl Talk (né Gregg Gillis), the Pittsburgh D.J. whose mixes mash together classic rap with ultra-current pop and whose concerts could very well be B-roll for a Gatorade commercial, drops by Terminal 5 for a tennis-tourney kickoff concert, "US Open Rock the Set." Tennis whites are not required, though an invitation is. Goodtime Brooklyn duo Matt and Kim are on the bill as well—they're the most important thing the borough has given professional tennis since Brooklyn Decker! Don't worry—there are a few days (and several miles) separating you from the on-court action at Arthur Ashe Stadium. Tonight's just about the music, man! … Meanwhile, real estate developer the Gotham Organization throws itself and its residents a private concert of their own on the roof of its Atlas Building, starring ladyrapper (and Nicki Minaj precursor) Eve. The second in a summer series, the concert is to benefit the National Breast Cancer Coalition, though there's no fee to attend. "It's an awareness benefit," a rep tells The Observer.
US Open Rock the Set, Terminal 5, 610 West 56th Street, 7:15pm, private event; Gotham Organization Open A.I.R. Summer Concert, Atlas New York, 66 West 38th Street, private event.
Thursday, August 25
History's Lesson
Since leaving office, George W. Bush has kept a low profile, giving only a few interviews—he's been kind of a spectral presence, either Oedipus at Colonus or Voldemort vanquished, depending on one's perspective. (We'll see how history judges. Despite W's insistence that he will be vindicated, the crystal ball still appears rather murky on that one!) In one of his most substantive resurfacings since President Obama's inauguration, 43 sat for an interview with the National Geographic Channel to reconstruct the events of Sept. 11, 2001. The doc gets its first unveiling at the New York City Fire Museum, along with a memorial to New York's firemen killed in the line of duty and a Q.&A. with the special's director, Peter Schnall. Mr. Bush's alternate absence and presence on Sept. 11 is a crucial part of the nation's memory of that day—and of his presidency. Perhaps Mr. Bush hopes the National Geographic Channel—with its nonpartisan standing as the sort of historical voice of God—would land on his side when all was said and done.  This should make for an interesting home for his recollections.
New York City Fire Museum, 278 Spring Street, private event, interview to air on National Geographic Channel on August 28 at 10 p.m.; visit natgeotv.com/9-11.
Friday, August 26
Andy, Did You Hear About This One?
We often wonder what Andy Warhol would make of contemporary goings-on. Would he like Jeff Koons? Would he have listened to the Strokes when they were good? Would he have been a guest at Kim Kardashian's wedding? And—most pertinent today—what would he make of the public art group Cause Collective's "Warhol-inspired" installation at Building 110 on Governors Island, called The Truth Is I Am You? The exhibit is based upon Warhol's Silver Clouds installation piece, which consisted of eerily blank Mylar balloons. The updated interpretation adds in a verbal component with a single line per balloon, translated into one of 25 languages. We know Warhol liked balloon art and aphorisms—but the depiction of words in a Warhol tribute seems a bit too … Lichtenstein, right? At least they're in multiple languages, like a monument to his legendary awkwardness and difficulty talking to people. (Maybe we're rationalizing?) We've been meaning to get to Governors Island anyhow (The ferry's free, don't you know, and not even a long enough ride for us to bother bringing a flask!), and this provides the perfect reason.
On view today with opening reception tomorrow at 3 p.m., Lower Manhattan Cultural Council Arts Center at Governors Island, Building 110; visit lmcc.net for more information.
Saturday, August 27
Ivan the Terrible
Reader, sometimes we must simply quote the invitations we get—in this case, to a party that Sir Ivan is hosting in honor of Crown Prince Manvendra Singh Gohil of India. "Sir Ivan is hosting the event at his Hamptons castle on Saturday, August 27th from 8-11pm and will also be presenting the world-premiere of the new video for his recent Billboard Magazine Top Ten hit single 'Hare Krishna,' being shown on a huge outdoor screen." Here's a few pieces of context: "Hare Krishna" peaked at number 10 on Billboard's "Dance/Club Play Songs" chart in April. Sir Ivan's other musical output includes club remixes of John Lennon's "Imagine." He is a Penn graduate and studied law at Yeshiva. The 45-year-old Prince Manvendra Singh Gohil is the first openly gay Indian royal in modern history. Sir Ivan dates Japanese glamour girl Mina Otsuka, who appeared at a previous "Hamptons castle" party this summer in gold breastplate and cape to Sir Ivan's ermine-trimmed robe and coat of arms. Sir Ivan, whose surname is Wilzig, has hosted medieval-themed parties at his imposing Water Mill "castle"; he is a philanthropist and son of a Holocaust survivor. Mr. Wilzig, who appeared on the reality TV series Who Wants to Be a Superhero? as "Mr. Mitzvah," is sponsoring a "luxury coach" to transport Manhattanites who wish to attend his party. Mr. Wilzig claims the party is being filmed for Oprah Winfrey's OWN network. Including external links, Mr. Wilzig's Wikipedia entry contains 940 words, nearly twice the length of the entry for Water Mill, N.Y. Meet us there?
Private residence, Water Mill, N.Y., 8 p.m.; luxury coach transportation available for invited guests.