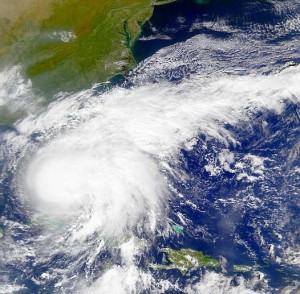 By now you've likely taped your windows and sifted through plenty of awful advice on how to survive the oncoming windy-wet onslaught headed straight towards New York City (as it already begins to fail to live up to the hype). Yet, one must look on the bright side of things: there is a silver lining to every Obese Death Rain Cloud, and we believe we've done a decent job of finding it. If you have any better ideas, throw them in the comments: We'd love to see your sunniest hurricane dispositions. 
25. Street Cred. In one week, the Yankees break the Major League Baseball record for Grand Slams, we have an earthquake, and we have a hurricane. Our city's reputation of go-big-or-go-home continues to be reinforced. Also, Mets fans have an extra two days before their next embarrassing loss.
24. Cultural Darwinism. A bunch of generic street fairs filled with those same awful sausage-and-peppers stands and $0.50 sock-retailers along with two Dave Matthews Band concerts have been shelved. Only the strong survive. All hail The Lion King.
23. Community Relations. As you panic to buy all of the Wonder Bread in your grocery stores today and later scream at one another as you sweep Monday's water under someone else's doorway, you will surely get to know your neighbors a little bit better. Never a bad thing.
22. Adopt-a-Rat. Those subway rats you so revile and are disgusted by may be forced to seek higher ground due to flooding. Naturally, they'll need friends—who doesn't?—and you need good karma. Put a warm dish of milk out for them; you'll feel better about yourself. Or…
21. The Forthcoming Massive Rat Eugenics by Pitchfork Stabbing. Since this seems to be happening, your other option is just to grab a pitchfork and join the noble fight against these terrible creatures by impaling them on a pitchfork. Maybe, if you can revive the Hipster Taxidermy trend, there's a wide profit margin to be potentially taken advantage of here.
20. Renter's Insurance Claims. Do you have any idea how awesome renter's insurance is? Leave your windows open this weekend to find out. Enjoy that new 42″ TV. After all, that "junk" you own now "was like $1,000 or whatever my parents bought it for me" when it was purchased. "In 2006."
19. Hormonal Upshot. If you're stuck in your neighborhood, and you're single? Restlessness and chaos are to casual sex what gasoline is to a three-alarm fire.
18. Hormonal Upshot-Upshot. Murray Hill, Williamsburg, Greenpoint, and areas surrounding NYU dorms will obviously infect one another with nine variations of the clap once condom supplies deplete themselves; this is the kind of thing that will generally keep someone for going out for a few weeks, so by the time everything clears up, voila, you may now take a dip in the hot tub at Le Bain/drink at Union Pool uninterrupted. Also, economic stimulus to local sexual health economies.
17. Floundering Print Media Industry Stimulus. Things that don't require power: reading in print.
16. Not-So-Floundering Digital Media Industry Stimulus. People are obsessively reading everything they can about the hurricane, especially the sociopathic fear-mongering drivel and comically unfunny, facile lists usurping any actual news today. As you participate in this exercise, remember who you're helping: us.
15. News Cycle Cover Fire. Did you know Goldman Sachs cluster-bombed every orphanage in Eastern Europe this morning after transparently shorting Eastern European Orphanage futures? They didn't, but if they did, you wouldn't hear about it: there's a hurricane about to hit New York City, maybe.
14. Montauk Residents Will Finally Have A Summer Weekend To Themselves. Self-explanatory.
13. People Who Can't Normally Afford To Weekend In Montauk Can Now Squat In Abandoned Mansions. Self-explanatory.
12. The High Line Gets Taken Down A Notch. Aren't you sick of people telling you how great that ridiculous fifteen-foot wide park is? Well, in a hurricane, you're probably more likely to die there than in any other park in Manhattan. So, really, how great is it now?
11. Opportunity to Familiarize Yourself With a "GTFO Plan." There hasn't been a better time.
10. Hurricane-Embattled Celebrities: They're just like us!
9.  Only Enjoyable Sunday at MoMA Possibly Ever. They will, in fact, be open.
8. MTA Employees Get A Much-Deserved Day Off. When you think about it, this actually makes your $104 Metrocard even more valuable.
7. Thing You Wanted To Flake Out Of You Now Don't Have To. Sorry, man. Really wanted to do that triple-brunch-date at Dumont, too.
6. Commuter Rail and Bridges Shutdown Basically Seals Out B & T From Nightlife. For one weekend, the Meatpacking District, the East Village, and everything off the Bedford Stop is yours again.
5. Recently Embattled NYPD To Be Comically Undermined By National Guard. Also, they don't rape civilians and get away with it.
4. And Now You Know: Which type of evacuation zone you live in.
3. Jay-Z and Lil' Wayne Beef Temporarily Shelved. Sometimes, you want to delay taking a side in an issue as long as humanly possible. This is one of those issues.
2. Bike Schadenfreude. They may be the only people to be able to properly escape the city—if even that—but you will be able to smugly entertain yourself by watching the most self-righteous of all commuter species attempt to navigate their way from Point A to Point B through a hurricane, because you know a bunch of them will.
1. Post-Disaster Real Estate Bargain Hunting. Battery Park City, here we come.
fkamer@observer.com | @weareyourfek