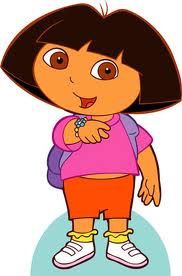 Can your tot say "Sold" en Espagnol? Dora the Explorer co-creator Eric Weiner and wife, playwright Cherie Vogelstein, have sold their apartment at 245 West 99th Street in the Extell-developed Ariel West condo building.
Perhaps Mr. Weiner thought up ideas for the infernal Spanish-speaking preschooler while watching TV in his giant 626-square-foot living/diving room space. Or maybe, pondering the state of children's programming, he created plots for the torturous tot while staring at the cityscape from one of his many ventanas. The view, according to Brown Harris Stevens brokers Lisa Lippman and Scott Moore, is one of the apartment's main draws. So much so as to warrant an enthusiastic exclamation in the property listing: "Whether sunny or overcast, the helicopter-like views from this apartment are endless and AMAZING!," the brokers write.
City records show a Matthew Rosen purchased the four-bedroom, 3.5-bath apartment for $5.285 million. Aside from the apartment's walk-in closets, laundry room and oak floors, Mr. Rosen can watch the sun over the Hudson as he enjoys a nice hot ducha (that's Spanish for shower) in the windowed master bath.
Hopefully, Mr. Rosen isn't a smoker or is willing to kick the habit, however, because the elite Upper West Side building put the kibosh on lighting up last May, according to The New York Times.
City records show that Mr. Vogelstein and Ms. Weiner purchased the condo in 2008 for $4.475 million. The deed for the most recent sale shows that the couple has not ventured far from their former stomping grounds, listing the Laureate at 2150 Broadway as their current address.
eknutsen@observer.com