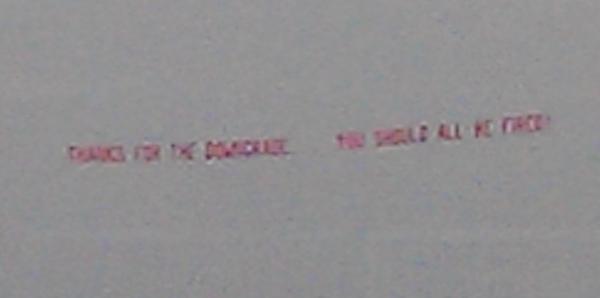 Originally spotted on Twitter by American Banker, someone paid for an airplane to fly around Manhattan—reportedly near the Standard & Poor's offices—with a banner screaming: "THANKS FOR THE DOWNGRADE. YOU SHOULD ALL BE FIRED." Pictures and more sightings are beginning to emerge. Full image below: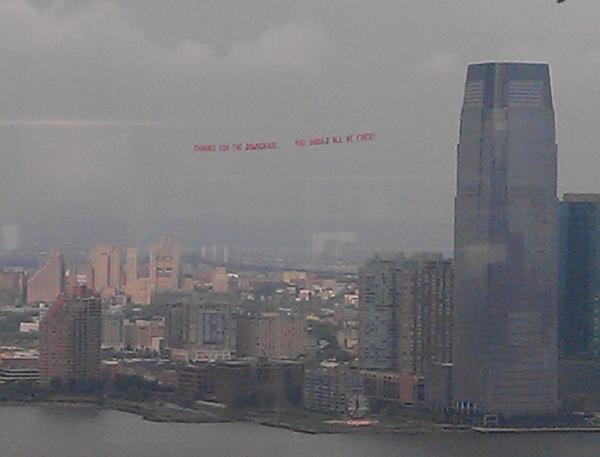 The S&P offices are at 96 Water Street, near the East River, but as some commenters have noted, these pictures (separate from the original reports of the banner near the building) were taken from a view of the Hudson River. [UPDATE: The banner's flyer didn't want to send it by S & P. It was directed at Wall Street by a single mother from St. Louis. Full story below.]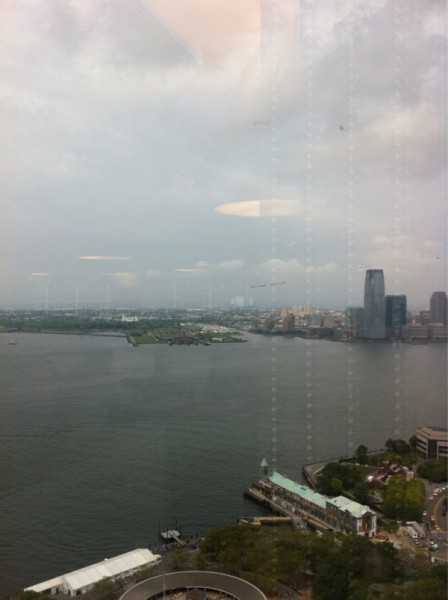 Special thanks to tipsters Stephanie Judge and Chris Egebo for being The Observer's keen-eyed crowdsourced shutterbugs on these.
UPDATE: Fortune's Dan Primack figured out who flew the plane, none other than a single mother from St. Louis fed-up with Wall Street:
"I originally wanted to fly it over Washington, D.C., but learned that you can't do that," says the banker, who asked to remain anonymous for job security reasons. "So I chose Wall Street instead, but didn't specifically intend it to fly over S&P. I'm just a mother from St. Louis who feels the only reason we got downgraded was people in politics."
UPDATE 2: A friend of the woman who flew the plane who requested anonymity spoke to the Observer by phone, confirming that her friend is in fact as single mother of two from St. Louis. We were told she is a broker and as her friend explained to us, "she woke up pissed about everything in Washington, especially now with the downgrade." She wanted to fly it over D.C. but she couldn't because of the restricted airspace; her original intent wasn't to fly the plant "at" Wall Street, per se.
"She's not mad at S & P, she's mad at Washington D.C. She called me up to have me talk her out of it, and of course, I didn't," her friend noted, "because I think it's funny." According to her friend, the woman "does not have a lot of discretionary cash as others are saying. She's a single mother of two. She's been working and paying taxes since she was 16 years old."
Is she of any particular political persuasion? "Nope," her friend notes. "Not really. It's directed at Washington. The Republicans, Democrats, President. Not at S & P." We noted—as we've heard from friends, colleagues, and sources that the banner is likely making quite a few people smile.
"I think she'd be happy to hear that. She can't reveal herself because she doesn't want to lose her job, obviously," her friend noted, "but I think she'd be happy to hear that."
UPDATE 3: The woman is reported as being Lucy Nobbe, a VP at private equities and investment firm Wedbush. Ms. Nobble emphatically noted to The Daily that the message was not associated with Wedbush.
[FK]