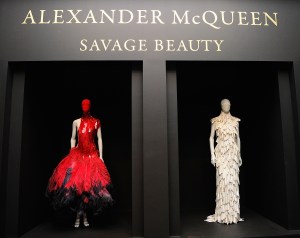 Last night, "Alexander McQueen: Savage Beauty" officially surpassed the 2008 comic-themed "Superheros: Fashion and Fantasy" show in number of visitors, making it the most popular runway-related show in the history of The Metropolitan Museum of Art.
The late designer's buzzed-about collection has attracted 582,000 people since its opening in May, and will continue to rack up the numbers for another week. "Savage Beauty" will close at midnight on August 7 after an unprecedented extension.
The new record is hardly a surprise. The New York Times' Eric Wilson wrote a breathless appraisal of the show for yesterday's paper that treated the exhibit's attendance record — as well as its impending inclusion in the museum's all-time top-twenty exhibitions — as an inevitability.
Where did the phenomenal popularity come from? The Times points to Kate Middleton's wedding dress (designed by Sarah Burton for the line), the designer's roguish drug-riddled reputation that dogged him during his lifetime, and the grisly details surrounding his suicide.
Those points aside, the success probably stems from the show itself.
"In a museum," Mr. Wilson writes, "clothes that suggest romanticism, battles between darkness and light, between love and sadness, or even life and death, take on new meaning."
Now, go see the thing already!