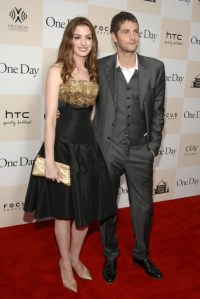 The people gathered at the downstairs floor of McNally Jackson books last week were excited. Or, more specifically, the mostly young, mostly female audience eagerly awaiting the arrival of David Nicholls, the British author of One Day, was excited.
"I just want to thank you for writing One Day," one voice piped up, as Mr. Nicholls arrived and took his seat.
"Is he gay?" wondered another to her friend, looking saddened when Mr. Nicholls mentioned his "partner." (For clarification: "David lives in North London with his partner Hannah and two children", according to his website).
One Day, the bestselling novel that has now been adapted to film, is set in England (and Scotland, briefly) from the late eighties and runs through until 2008, following the friendship of Emma Morley and Dexter Mayhew over twenty years.
For all its international appeal, the jokes from Nicholls' chosen extract – a letter from Dexter in Bombay to Emma in England – were somewhat lost on his young audience.
"There's no reason in this day and age why you should be using a launderette, there's nothing cool or political about launderettes it's just depressing," a drunken Dexter writes.
A few British expats laughed. The rest looked baffled – despite constituting part of the New York Laundromat massif, they clearly hadn't looked up the "launderette/Laundromat" entry in the English/American dictionary.
Nicholls soothed their embarrassment: "It's a very English novel. If Dex and Em were American they would say what they thought about each other straight away."
We wondered what Danish director Lone Scherfig felt about the film's Englishness.
"It is an English film; they are English characters. But it helps being a foreigner – I can ensure that the story doesn't get trapped in its English world."
Lisa Birnbach, co-author of The Official Preppy Handbook, who was interviewing the author, had no trouble relating to the characters.
"I'm a total Dexter, in a terrible way," she announced as she rushed in a half hour late. "But I'm well-dressed, too," she added.
Mr. Nicholls, who has created an extra-textual mix tape for Emma, gave a half laugh. He admitted to being attached to his characters and explained that he doesn't send them to their fates on a whim.
"I have cried writing prose before. Terribly pretentious."
There was a quiet intake of breath and a sincere nodding of heads from the skirt and heel wearing audience.
In the question and answer session, there were mumblings about the novel's adaptation for the screen, also written by Mr. Nicholls. "How do you feel about the casting of Anne Hathaway [who plays Emma]?" they asked. "Was anything from the novel lost?"
"Anne is a terrific dramatic actress. She really gets Emma's awkwardness," Mr. Nicholls responded.
The Observer didn't have much opportunity to ask Ms. Hathaway for her views on awkwardness when we saw her a few days later, dressed in Alexander McQueen for the movie's premiere at AMC Loews at Lincoln Square. It was getting late, she was holding up the movie screening and her manager rushed her through the interviews. She did manage to volunteer that the scene which for her epitomizes Emma's character – "so brave" – involves a dress and a haircut in Paris. Then she was swept into the cinema.
"Time doesn't wait for princesses, even those with a diary", we thought, as we overheard the model Coco Rocha mention Ms. Hathaway's performance in The Princess Diaries as she passed us on the red carpet.
Nevertheless, Random House editor Peter Gethers was on hand to impart a promotional quote about the reasons for the novel's success (which may or may not transfer to the movie): "It's a real romance based on friendship. David had the nerve to break the mold and write something that isn't just another cookie cutter."
Right, because in Britain they're called biscuits.