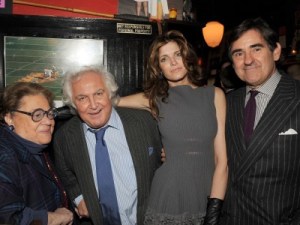 The storied Upper East Side restaurant Elaine's, a favorite of New York's monied and influential for decades, may have closed earlier this year, but boutique auction house Doyle is hosting a Sept. 20 auction that will allow bidders to take home memorabilia to remember the haunt.
Doyle (which is located mere blocks from the former home of Elaine's) is offering more than 250 lots from the estate of the restaurant's namesake owner, Elaine Kaufman, who died last year, including monogrammed hand towels (estimated to sell for $100-200), a baseball signed by the late Yankees owner George Steinbrenner (est. $250-350) and a sizable collection of artworks, posters and photographs that were given to Ms. Kaufman by the many artists and dealers that frequented her restaurant over the years.
Some of the more interesting art-related lots include:
A collage by California artist Wallace Berman. (Estimate: $30,000-50,000)
A lithograph of a shoe, from 1956, by Andy Warhol. (Estimate: $10,000-15,000)
A screenprint of flowers, from 1970, by Andy Warhol. (Estimate: $10,000-15,000)
An etching and aquatint of a panama hat, from 1972, by David Hockney. (Estimate: $5,000-7,000)
A first edition copy of German photographer Helmut Newton's gigantic Sumo folio. (Estimate: $3,000-5,000)
An assemblage of a burned and broken violin encased in resin by French artist Arman. (Estimate: $15,000-20,000.)
Other artists with work in the auction include Abstract Expressionist painter Helen Frankenthaler, the Swiss sculptor Alberto Giacometti and American Color Field painter Kenneth Noland.
A complete online catalogue will be released later this week. For now, though, a tantalizing summary of the lots in the auction is available here.