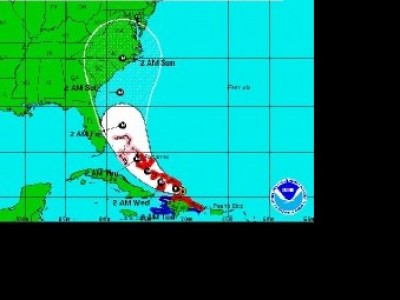 Storm's a'comin! As Hurricane Irene slowly mopes its obese and rainy way up the Eastern Seaboard, beginning to mess things up for people who are not in New York City, everyone on The Internet—especially in New York City, especially People In The Media—feels that now is the time to unload their reservoir of natural disaster preparedness knowledge out onto the public. Who knew these people were such experts on what to do when it hits the fan?
1. GAWKER. Sure, Media Power Bachelor Brian Moylan offers up sound advice ("don't buy up all the white bread in the supermarket," "charge your phone, iPad, computer, vibrator, and other necessary battery-powered electronics"), but mind you: this isn't Hurricane Advice so much as it is Every Day Advice For Otherwise Dysfunctional Persons.
2. GOLD BUGS. These people will find pretty much any reason to tell you to buy gold. Hurricane Irene is far less likely to send us back to the Gold Standard than the idiots telling you to buy gold because of a hurricane.
3. NOURIEL "DR. DOOM" ROUBINI. Not that he hasn't been correct before, and not that his war against gold bugs isn't funny, but reminder: Mr. Roubini isn't the "Dr. Doom" of anything but calling toxic assets as he seems them. Also, do you really think Nouriel Roubini is taking out three stacks of cash from the ATM today? (Answer: No.) You know what doesn't get wet in a hurricane? A bank account. If you take out more cash than you need and happen to lose/get wet/place line bets with it before it gets back to the bank, you will be down money, and chances are, you don't have the money to be down unless you are in Mr. Roubini's social circle.
4. DANA PERINO. Yes, take it from her dog, there is nothing better you should be doing right now other than sunning yourself. Reminder: This is a former White House Press Secretary.
5. BUSINESS INSIDER. You'll be reading quite a bit about what could happen if this hurricane hits New York City full-on, even though it likely won't. Somehow, Business Insider found it prudent to put a video of a New York City Tsunami Death Scenario at the bottom of a post titled Here's What It Might Look Like If A Hurricane Hit New York City. This is akin to using Transformers 3 to illustrate the threat of a space shuttle landing.
6. NATE SILVER. As it has been pointed out elsewhere, New York Times residential stat-boy Nate Silver noted the "multibillion-dollar" catastrophe scenario of a hurricane hitting New York. The second-to-last sentence: "These scenarios are exceptionally unlikely to be visited in the case of Hurricane Irene, an extraordinarily dangerous but not apocalyptic storm." Remember, that guy got famous because of fantasy baseball.
7. RAY NAGIN. No thank you, we're good.
8. PUBLICISTS. Recently arrived in an Observer inbox: an invite to a "Hurricane Party" at a Flatiron club. One could see this as a friendly extension of social good faith. Or a sneaky way to silence the press. If these people have a client, they have a cause…that likely can't be trusted, because they're paid to promote it, and will do anything to get between you and the truth of the matter. Publicists run and are ruining New York City and will eventually be responsible for us all being dead. But this applies to pretty much everything, not just hurricanes. Know that.
9. WIRED MAGAZINE. If they ratted out Bradley Manning, imagine what they'll do to you in a storm. You really gonna listen to these guys?
10. ANYONE GETTING OUT OF TOWN. We clearly already have very little invested in your cause as evidenced by our imminent departure. Sorry.
fkamer@observer.com | @weareyourfek