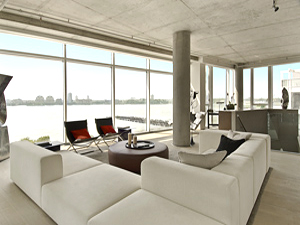 Keith Jacobson, a retired banker turned developer, has sold the two floors he owned at 173 Perry Street.
The glass building was designed by Richard Meier, though, despite the high-brow aesthetic, poor construction marred the property. When the issues with the building were being made public, Mr. Jacobson made his move, buying two floors in 2004. He paid $2.465 million for the seventh floor (which he purchased from Vincent Gallo) and slightly less, $2.25 million, for the sixth floor. He sold the conjoined apartments for $10.5 million this week.
The 3,364-square-foot home was originally listed for $12.5 million in 2008, and has been on and off the market since then. Corcoran brokers Robert Browne, Chris Kann, and Gregory Sullivan remark on details of the apartment, carefully arranged by Mr. Jacobson and his team of designers: "Meticulous wood, concrete and glass details throughout including floor to ceiling 10' glass walls, wide plank Danish Oak flooring throughout."
According to an article in The Times, Mr. Jacobson decided to sell the property because he found it too large. The duplex was purchased by an unnamed buyer under an LLC.
One-seventy-three Perry Street has been a magnate for celebrities looking for a West Village roost. Home-shoppers have included Heather Mills, Martha Stewart, Calvin Klein and Nicole Kidman.
eknutsen@observer.com