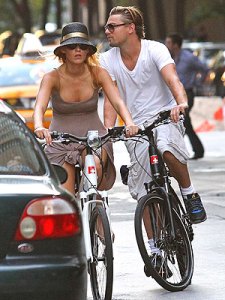 Last March The Observer investigated the fight for the right to bike, and discovered that it's fierce enough to be considered New York's last culture war. Cars are exhaust-y but bikes are annoying! Oh no, which side to choose.
Well, thanks to a photo snapped last Saturday, that war may just have been won for the pedal pushers. Soap opera actress Blake Lively and Leonardo "Gatsby, old sport!" DiCaprio — yes, ladies, he's taken! — were spotted riding the pesky wheeled contraptions around our fair city.
Where exactly are they! Well, it's hard to tell, as the background is blurry, and it looks like it could've been taken literally anywhere. Feel free to spend hours analyzing it, though! Keep us posted!
In other, non-culture-war news, this means the couple have most certainly not called it quits. But will they stay together once Leo packs up his stuff and sets sail for Australia, where Baz Luhrmann thinks Fitzgerald set The Great Gatsby? What, no valley of ashes over there? He's in for a surprise!
Anyway, bike-hating gas-guzzlers, if you see two wildly attractive blonde humans riding their bikes, try to resist the urge to run them over. Blake and Leo appear to not be fans of helmets, and we need another ten seasons of Gossip Girl.
UPDATE: Our eagle-eyed Matt Chaban noticed that the happy couple were biking against traffic. Don't try this at home kids!