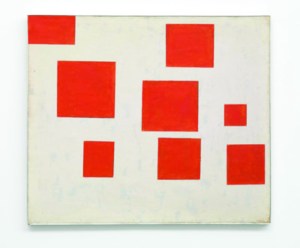 The original Blinky Palermo was a small-time American gangster and boxing manager. In 1964, a 21-year-old German art student named Peter Heisterkamp (sometimes also, depending on how you parse his paternity, Stolle, Schwartze or Eichelmann) took on the outlandish name. The act of changing his name could be considered the earliest artwork in the quirky show "Blinky Palermo," the first North American retrospective of the artist, curated by Lynne Cooke.
The exhibition is, appropriately, twinned (Palermo himself was a twin and often doubled motifs in his artwork), co-hosted by the Bard Center for Curatorial Studies Hessel Museum of Art and the Dia Art Foundation. While the Dia's Palermo is more iconic, it is the Bard half of the show that shines. Featuring his funnier, messier juvenilia as well as a room full of works on paper, the exhibition is the best way to encounter Palermo's primal quandaries.
From his birth in 1943 in East Germany to his untimely death in 1977, Palermo was a near-contemporary of Robert Smithson (1938-73) and Eva Hesse (1936-70). Like those artists, he took the forms of American Minimalism and rendered them eccentric, pulling political meanings and existential uncertainty from the confident geometric objects and shaped canvases of the 1960s. His was an ersatz Minimalism, and like the substitution of ground chicory for coffee or home-sewn jeans for Levis, his art spoke to the material conditions and aspirations of Germany in the postwar era.
Like his peers Sigmar Polke and Imi Knoebel, Palermo enrolled in Joseph Beuys's Düsseldorf Academy in 1962. There, Anselm Kiefer did studio crits; Palermo collaborated with Gerhard Richter. These students longed to make painting—then an art form discredited as having no social relevance—new again.
The first few works in the show are a student's homage to past masters. Palermo encountered paintings by Malevich and Mondrian in 1964 at Amsterdam's Stedelijk Museum and Palermo's Composition With 8 Red Rectangles (1964) borrows its flat reds and whites, as well as its title, from Malevich's Suprematist Painting: 8 Red Rectangles (1915).
But something exciting happened when Palermo began imitating his American contemporaries. In the red painting Untitled (1965), the uneven metal frame, imperfectly spaced finishing nails, hand-painted fractured surface and a punched-in hole at the top become significant. Palermo was no longer making a mere tribute, as he was with the Malevich, but rather making something out of the impossibility of creating work as confident and perfect as that of Frank Stella, Ellsworth Kelly and Robert Mangold. Palermo's efforts at making American art were so full of unfulfilled desire, and the works themselves so hopelessly awkward and handmade, that they became something in their own right.
These are not slick paintings. They often appear incompetent or boring. The electric green Grünes Viereck (Green Quadrangle) (1967) has endearingly bumpy edges. The surface of another work has pink cotton stuck to it. Others reveal patched seams. What is typical about a Palermo is its lack of success. A good Palermo is not an altogether convincing object.
Palermo's unique brand of Modernism is about how similar forms can have very different cultural meanings. His work simulates the forms and shapes— the very style—of triumphal American Minimalism, but without the swagger. Palermo's wobbly edges and imprecise lines speak to the impossibility of escaping your origins. If coming of age in Paris during the 1960s meant New Wave style, and in America meant a Pop present, in Germany it meant nebulous responsibility for acts committed before you were born. Palermo's paintings began around the same time Günther Grass published The Tin Drum and Cat and Mouse.
Along with Polke and Richter, Palermo created a dialogue that linked German postwar experience with American painting and sculpture. The result is complex and, at times, humorous and touching: knockoffs that have much to tell the originals about confidence, capitalism and materials. Palermo's early work, like his name, is a Cold War-era postcard to American swagger.
One room of the Bard show consists of Stoffbilder, or ready-made fabric paintings. Palermo and Sigmar Polke used to go together to buy fabric for paintings from department stores in West Germany; the economic conditions of Palermo's Leipzig birthplace resonate in his use of store-bought cloth to make these paintings. Untitled (1968-69) is a sea-green approximation of a painting by Mark Rothko; it is made of low thread-count bed sheet material sewn and stretched over a frame.
There's a Pop note in Palermo. While Americans were branding goods for sale, Palermo was branding geometric shapes. In Prototypen, four silk screens— a green triangle, a gray lozenge, a blue isosceles triangle and a small black square—represent Palermo's brand. The isosceles triangle also comes as a kit, allowing a purchaser to paint his own Palermo. Palermo's triangles may evoke work by his artistic contemporaries—Beuys's Filter Fat Corner (1963) and also Robert Morris's Corner Piece (1964)—but they also call to mind the 1960s logos of corporations from CBS to Sprite.
What happened when this German capitalist Minimalism emigrates to America? The Dia Foundation show opens in 1973 with Palermo newly arrived in New York. Like Mondrian before him, Palermo found himself at the epicenter of his desires. While his teacher Beuys's famous show "I Like America and America Likes Me" (1974) celebrated the mythical America of Indians and coyotes, Palermo paid homage to a no less magical place: his most ambitious work was called To the People of New York City (1976) and he named other abstract paintings for Coney Island and Stevie Wonder.
Yet Palermo never acquired the scale and material confidence of American art. His paintings remained small. By the mid-'70s, he'd begun painting on aluminum, but instead of using smooth industrial enamel he chose gloppy acrylic applied with small brushes. Taxi-cab yellow, black and red predominate: the palette evokes New York, but also the colors of the German flag.
It's worth asking why Palermo's brand of indifferent, awkward objects looks so good to us today. The pieces from this show would look relevant in any contemporary art gallery on Orchard Street. He's been influential to artists working now: Rirkrit Tiravanija invokes his name, Gareth James's work echoes Palermo's subtle architectural tracings, and his wobbly modernism is related to that of David Hammons and Franz West.
In a moment when America finds itself nostalgic for a powerful economic past and is increasingly unable to compete in a global economy, Palermo's love of American style and his material meditations on the impossibility of living up to the task of being successfully American feel newly potent.
Palermo died at age 33 of a drug overdose. His work was largely unknown in this country until the late 1990s, despite the surge in popularity experienced by his peers, Sigmar Polke, who passed away last year, and Gerhard Richter. It reminds us from the vantage point of history that however much you may prefer the original, the homemade copy might ultimately be more a telling, more complex object, crystallizing a larger set of motivations and desires.