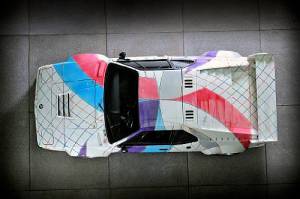 A 1979 BMW M1 race car that was designed by New York-based painter Frank Stella is being sent to the Bonhams auction block this week in Pebble Beach, Calif., where it is estimated to sell for between $450,000 and $600,000.
The work is being sold by the Guggenheim Museum, which was given the car a little over a decade ago. Proceeds from the sale will fund new art acquisitions.
The Stella paint job was commissioned by the professional driver Peter Gregg, who killed himself in 1980, at the age of 40, months after developing double vision during an automobile accident prior to a race, effectively ending his racing career.
BMW has a rich history of hiring artists to create decorate its cars, in which Mr. Stella also participated, in 1976. Other artists who have been involved in that program include Alexander Calder, Robert Rauschenberg, Jenny Holzer and, most recently, Jeff Koons. Mr. Stella became a car-racing fan following his participation in the project.
Mr. Stella's signature appears above one of the car's rear windows, though it was not painted by the artist, the Bonhams catalogue notes. Instead, a professional sign writer handled that duty as the artist watched from the side.