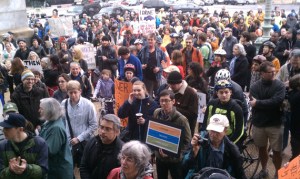 Let the good times roll.
The city just announced that Brooklyn Supreme Court Justice Burt Bunyan ruled in the city's favor, following an Article 78 challenge filed by two neighborhood groups. There had been some question during the latest round of hearings as to whether a full case would proceed or if the judge would simply dismiss the case. Now we know it's the latter.
"This decision results in a hands-down victory for communities across the city," Transportation czarina Janette Sadik-Khan said in a release. "The plaintiffs have been dead wrong in their unsupported claims about the bike path and DOT's practices. This project was requested by the community, they voted repeatedly to support it, and their support has registered in several opinion polls. Merely not liking a change is no basis for a frivolous lawsuit to reverse it."
The case largely focused around whether the bike lane was requested and built in consultation with the community, or whether it was "an experiment," as the judge's decision puts it, that was inappropriately left in place after locals had rejected it. Justice Bunyan found that the petition lacked merit it so he has dismissed it.
How did this whole fight get started? Blame the bike lames!
The Obsever has reached out to Neighbors for Better Bike Lanes, one of the petitioners, for comment. It is not clear if they will appeal the decision. The decision seems pretty damning, though. "The threshold issue is whether petitioners' bikeway claim is timely." Hard to turn back the clocks on that.
From Justice Bunyan's decision:
First, it cannot be disputed that the bikeway had an impact on petitioners who obviously were aware of it, as evidenced by their complaints to DOT. Second, petitioners were on notice that DOT had no intention of removing the bikeway, since DOT was merely enhancing it following  its construction in June-July 2010. Third, DOT never stated to CB-6 that it would remove the bikeway should its January 2011 implimentation results prove to be adverse to the community. Lastly, if, as petitioners allege, DOT's plan to construct the bikeway  had a "predetermined outcome," then DOT never had any intention of removing the bikeway, regardless of the outcome of its implimentation study. Thus, the relevant statute of limitations  began to run in June-July 2010, at the latest, when the actual onsite construction began and was completed. The statute of limitations expired,  at the latest, in November 2010, at which point no further event needed to take place  in order for petitioners to claim to be aggreved by the bikeway's presence.
So, it would appear, in complaining early and often, bike lane opponents sealed their fate.
With surging poll numbers in support of bike lanes and now this, is the bicycle backlash maybe finally over? Well, not if the Daily News has its way.
Update 9:17: NBBL attorney Jim Walden released the following statement, making no indication of whether or not there will be an appeal, though more information could be revealed tomorrow.
We respectfully disagree with the Court' determination.  There is little doubt that, had the Court permitted our discovery motion (which we believe the law requires in these circumstances), we would have proved that DOT specifically sought to present the bike lane as a pilot/test project which, based on the results of its safety study, might be removed.  Thus, there was no "final" agency action.  This is exactly what the DOT Commissioner told the Borough President in no uncertain terms.  We expect to appeal this decision and are confident we will prevail.
Update 10:15: Councilmember Brad Lander, who represents most of Prospect Park West, is out with a statement echoing his previous support for the lane. Here's part of it:
"The installation of the Prospect Park West bike path has been a huge success, making the boulevard safer for pedestrians, bicyclists, and drivers alike.  Most residents of Park Slope have indicated that they like the new, safer Prospect Park West and want the bike path to remain.

"I don't think any of us – on either side of the debate – thought we would be spending so much time debating one mile of green paint, inside or outside of a courtroom.  I am glad to put this behind us, and I look forward to working together to find common sense ways to make our streets safer, our neighborhoods more livable, and our city more sustainable."
NBBL also sent along an amended statement, after it had more time to review the decision:
The Judge had a very different and very independent view of the facts—different, in fact, than either party.  He dismissed our Petition without prejudice to us, held that DOT never made a decision concerning removal of the bike lane, invited us to demand that from DOT, and then re-file if DOT refuses to remove it.  At the same time, he granted our long-standing demand for public documents, which DOT wrongfully withheld.  Although we respectfully disagree with the Court's determination on the statute of limitations, we will need time to review his comprehensive analysis before deciding on our options.
Note that the group has now stridently taken the decision dismissing its claim and is now stridently spinning it in its favor.
This post has been updated an expanded from its original version.