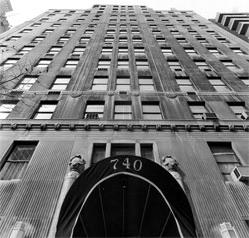 Last week, The Observer wrote a story about the hyper-exclusive co-op 740 Park.
As The Observer noted, the building is cash-only. Many people questioned if foreclosure was even possible, in fact, in a building that forbids residents from borrowing against their properties. We noted in the piece that Kent Swig, a one-time 740 Park resident, happens to co-own Brown Harris Stevens Residential Management, which manages the building. A source told us that Mr. Swig was allowed to take out a loan for the apartment because of this ownership stake. (Mr. Swig no longer lives there; the apartment is controlled by estranged wife Liz Macklowe.)
Brown Harris Stevens sent The Observer a letter after the story was published, denying any conflict of interest.
Here's the key part:
Neither Brown Harris Stevens company had any knowledge of any borrowings regarding the Swig apartment prior to Bank of America's initiation of collection proceedings in 2011. The Bank of America foreclosure complaint, which is of public record and your newspaper reported on, makes no allegation that Brown Harris Stevens or 740 Park ever approved the loans in any way.

The suggestion that Brown Harris Stevens would somehow violate the rules of a building it manages, and thus its fiduciary duties, in order to accommodate a principal is absolutely untrue and very damaging to Brown Harris Stevens' nearly 140 year old sterling reputation," Ms. Gotzler concludes.
Brown Harris Stevens declined to comment further, referring us back to the letter.
eknutsen@observer.com