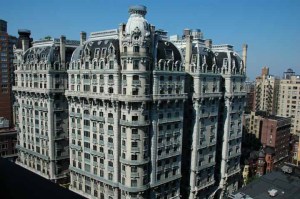 Upon noticing that famous foodie Lee Brian Schrager had put his apartment up for sale, residents of The Ansonia may have worried that the sweet epicurean scents of a master at work would disappear from the building forever. Luckily for them, however, Mr. Schrager and his partner Ricardo Restrepo have purchased another unit in the building.
City records show that Messrs. Schrager and Restrepo have purchased a slightly larger 1,264-square-foot apartment for $1.55 million. Additional records show that the couple sold their previous unit (a mere 975 square feet) in the building for $729,750, far below the $1.2 million asking price. Although their new space may be bigger, their view of the city will probably be downgraded: the couple's previous apartment was a penthouse.
We wonder if an extended kitchen comprises the additional 289 square feet Messrs. Schrager and Restrepo are gaining in their new space. Although, according to Sirus Realty broker Bernie Gelb, the couple's previous apartment in the building includes an enviable "open kitchen with granite countertops and T-O-L appliances and wine cooler."
Its no surprise the couple decided to stay at 2109 Broadway. According to the City Review's take on the building, the Ansonia complex is the second most well-known building on the Upper West Side, topped only by the historic Dakota. "Despite the ravages of time, the building still reeks of sophistication and romance and a mannered luxury more of decadence than gentility. It is exuberant rather than exotic, courtly rather than stately," writes Carter Horsley.
eknutsen@observer.com