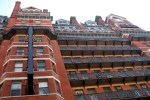 Real estate investor Joseph Chetrit closed on his nearly $80 million Chelsea Hotel buy early last week, and now information has trickled out about how he and junior partner Clipper Equities paid for it.
They got an $85 million, 36-month loan from Paris-based banking behemoth Natixis. The loan has a 12-month repayment extension option, and was brokered for the borrowers by Meridian's Ronnie Levine and Aaron Birnbaum. (Real Estate Weekly has more news on the loan.)
Clipper, incidentally, was the controversial would-be buyer of the massive affordable-housing complex in Brooklyn, Starrett City, offering $1.3 billion in 2007. David Bistricer, one of Clipper's principals, has a checkered past as a residential landlord, with several—and we mean several—housing violations to his name. Several pols, including then-Governor David Paterson and local members of Congress (Starrett is the nation's largest federally subsidized housing project) rejected the Clipper bid in large part because of these violations.
We are trying to contact Mr. Bistricer, who is proving just as elusive as his partner in the Chelsea, Mr. Chetrit.
tacitelli@observer.com  ::   Follow on Twitter @tacitelli