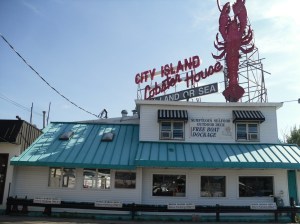 That's BroBo as in Bronx Bohemian, not Brooklyn Bohemian.
Not two weeks ago, the Daily News was informing us that City Island could well be the newest hipster haven (in a city that seems to be drowning in them), and now The Journal chimes in today. The paper notes that City Island has become popular with yuppies, as they replace the working class and rich. Those who used to ply the waters in jon boats and yachts are now sharing the island with terrestrial brethren more concerned with less—and more—salty things.
"I used to only sell marine supplies and hardware but now all that stuff has become antiques and memorabilia," said John Persteins, owner of Trader John on City Island Avenue. "There was always someone renovating or building their dream boat and that kept me in business because they bought stuff, but that doesn't happen so much anymore."

Some locals complain that as maritime activity has receded, the island has become "one big restaurant." The island dining scene certainly remains vibrant with restaurant staples such as the Black Whale and City Island Diner continuing to draw locals and visitors, while newcomers have joined their ranks.

Among the additions is Aggie's Roll, a farm-to-table venture opened in December by sisters Agatha and Margaret Biggart. The eatery has garnered a following for its lobster rolls, currently served out of a trailer while the restaurant is built next door.
Tschoke shops and restaurants, and not much else to speak of in terms of culture or economy. Yep, sure sounds like Brooklyn.
mchaban@observer.com  ::  Follow on Twitter @MC_NYC