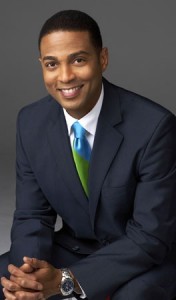 As the fallout from last week's reveal of our Media Power Bachelor and Bachelorette lists continues to unfold—and then some—we took note of one of the more famous names to publicly acknowledge having made our list, the openly gay and supposedly taken CNN anchor Don Lemon. In a column penned for CNN's website today, Mr. Lemon clears up any misconceptions one might have about his marital status (or his inclusion on the list).
Titled "A New Marriage Dilemma," Mr. Lemon—who's won praise both as a news anchor and as a prominent figurehead for openly gay broadcast journalists (especially with regards to his memoir, Transparent)—tackles the question facing many gay couples as individual states' marriage laws continue to be amended: Is it time to get hitched?
After an encounter with a New York Magazine reporter asking about his current "status" that left him ever-so-slightly irritated ("it didn't go well," he notes), it was likely going to take a little more to draw his personal notions about the nature of signed and sealed commitment  into sharp focus. Enter a certain Media Power List:
Honestly, I hadn't pondered marriage since I came to terms with my sexuality almost two decades ago. But it really hit home for me when to my and my boyfriend's surprise The New York Observer named me a 2011 media power bachelor, and I got the news in an e-mail that my colleague Joy Behar had tied the knot with her long-time boyfriend, Steve Janowitz. While the power bachelor thing was fun, the Joy thing got me thinking.
Nevertheless, it was obviously the "fun" power bachelor thing that helped him draw an important conclusion, emphasis ours:
…Just as I did when I came out publicly this summer, I'll get ahead of all those "fishing" for an answer about my marriage plans. While I respect the gay couples who have or are planning on tying the knot soon, the truth is, just like straight people, not all gay people want to or should get married.

But perhaps the best answer and the one closest to my own comes from a personal quote on the website IMDB from another confirmed bachelor, Leonardo DiCaprio: "People always like to make up stories. I am not planning on getting married. Then again, I might wake up tomorrow and decide to get married!" Thanks Leo.
With great (media) power comes great responsibility; in continuing to exercise the virtue of transparency, Mr. Lemon more than transcends the superfluous superlative any list could anoint him with (though, should he choose to get hitched, we obviously already have a contingency plan in place).
fkamer@observer.com | @weareyourfek