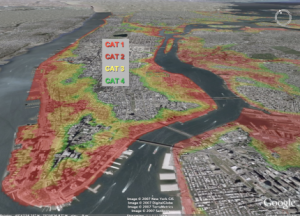 It's started raining, and it's not about to stop until Monday—Brooklyn is Portland!—thanks to the arrival of Hurricane Irene off the East Coast. Hopefully, like Tuesday's Earthquake, New York won't be getting it too bad, but just in case, the Bloomberg administration has been preparing the city for possible problems, the greatest of which would be flooding. The mayor's office just released a map of hurricane zones, to keep New Yorkers aware of where things could be bad.
Not surprisingly, Battery Park City, the Lower East Side, Redhook and Coney Island are all flashpoints, but so too are large swathes of Staten Island and the Upper East Side. The mayor took time out to put the city's mind at ease with a few jokes in today's announcement of the preparations:
The City has already seen the power of Mother Nature once this week, and Mother Nature may not be done with us yet. I'm sure that many of you are following the story of Hurricane Irene. I'd like to give you an update on how we're preparing our city for all possible scenarios. Unfortunately, there is an element of unpredictability when it comes to the weather, and so we hope for the best but we prepare for the worst. That's why this City is, I think, ready for this weekend.

By the time Irene gets to us, which is forecasted to do sometime on Sunday, it certainly will still be a powerful storm – possibly as strong as a Category 2 hurricane on Long Island, but anything can happen in terms of its direction and its severity.

At this point, the forecast does not indicate that the storm would hit New York City with that strength, but we certainly will still see its effects here, including tropical storm-like conditions such as heavy rains and winds of 60 miles an hour or more. And as a matter of fact, you're going to see some of Mother Nature later this afternoon if the forecasters are right. There is a band of heavy thunderstorms that are scheduled to move across the city later today, and so take the normal precautions. When you're out in thunderstorms, don't go out into a field, get inside, inside a car, or inside a building. And be careful. And also, it's a good time to check in on any neighbors who live alone, and could use some help.
In addition to beer and bread, you might want to stock up on some good books for the weekend, because it will not be pretty outside.
mchaban [at] observer.com | @MC_NYCNYC Hurricane Map Danger Zones