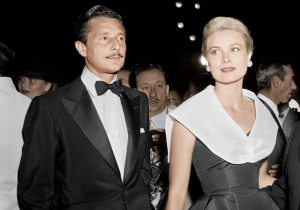 Conde Nast has been sued for libel over Maureen Orth's September 2010 Vanity Fair article, "Cassini Royale," about designer Oleg Cassini and the battle over his estate. The plaintiff is Marianne Nestor-Cassini, Cassini's secret wife from that story, who says that aspects of Ms. Orth's piece were slanderous wrong. Wrong to the tune of $10 million, apparently!
Since everyone's gone for the day we're going to have to limit this post to the ugly, ugly realm of aggregation. But here are some things to consider:
Ms. Orth tried to interview Ms. Nestor-Cassini. She declined to be interviewed.
From the piece: "Marianne was not a top girl [read: the prettiest]."
From the complaint: "Marianne never had a Fifth Avenue apartment in the 1960's nor did she even know Bill Paley; Si Newhouse, Chairman of Advance Publications, should know this to be false, as Marianne was living in Soho, and Si Newhouse would drive her home after dinner at Orsini's on West 56th Street, in the same time period. Si was not married at the time."
Okay, go.
Update, 8/9 Corrected some phrasing.