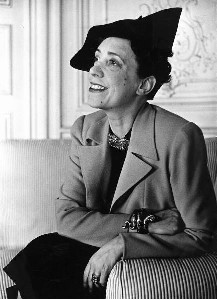 Last week news broke that the follow-up to the Met's wildly successful Alexander McQueen exhibit will reportedly be a Costume Institute show featuring Miuccia Prada and Elsa Schiaparelli. We were curious about the chances that such an exhibit would have of coming anywhere near the attendance numbers of the McQueen exhibit, so we called the Philadelphia Museum of Art, which hosted an exhibit on Schiaparelli in 2003, to see how it did.
Quite well! According to the museum's press office, the 2003 exhibit garnered an impressive 84,605 visitors from September through January. We'd always known that it was popular, anecdotally, but this number fairly confirms that. To put this in perspective, the Met's Leonardo da Vinci exhibit from that year was one of the top attended shows at 401,004, according to The Art Newspaper.
One can only imagine the kind of numbers the Met will garner from paring her with a popular contemporary designer like Ms. Prada. The McQueen exhibit was one-of-a-kind but don't count this dynamic duo out of the running when it comes to attendance figures. The Costume Institute exhibit opens in Spring 2012.
Update 8/30, An earlier version of this post said that the next exhibit had been announced. Citing sources, WWD reported that the Costume Institute's next exhibit would feature Miuccia Prada and Elsa Schiaparelli, but the next exhibit has not been officially announced.