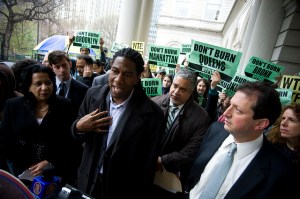 On a recent Thursday afternoon, Councilman Jumaane Williams was sitting half a foot away from the small round table in his office, lamenting that he can't do as much as he'd like with the job he currently has.
"A lot of us are trying to do the best we can the way the rules are set up," said Mr. Williams. As he spoke, his body jerked, tossing his arms a few inches in either direction, and bouncing his long tightly-wound dreadlocks. "The rules are problematic, so, let's go and change the whole structure. The structure is bad."
Mr. Williams is less than two years into his first term representing parts of Flatbush and Midwood in Brooklyn, but he is already trying to reshape the essential power dynamic between the City Council and the next mayor. After this year's contentious budget — in which the City Council narrowly staved off Mayor Bloomberg's effort to close more than 20 firehouses and lay off more than 4,000 teachers — Mr. Williams and East Side Councilman Dan Garodnick decided the process could benefit from a few significant changes.
Together, they have begun looking at amending the city charter to alter exactly when and how the mayor gets to determine the city's annual budget, and for the next administration to explain in greater detail which programs it intends to fund in each agency. It would be a dramatic shift in favor of the Council, if Mr. Williams can somehow convince voters to sufficiently care about such an oblique budget process – one that would likely require a voter-approved referendum.
"I think if they understood that the balance of power is not what it's supposed to be, and it's not what they think it should be, and that the Council is not as balanced as it's supposed to be, I think they'll be very interested," he said, his motor tics continuing unabated. "I think it's a matter of how it's conveyed to them."
Mr. Williams is, undoubtedly, an unconventional messenger. At 14, he was diagnosed with Tourette's – the only elected official in New York City to serve with the rare neurological syndrome, and perhaps the only one in the United States. (A spokesperson for the Tourette Syndrome Association said the organization was unaware of any other elected officials with Tourette's, anywhere in the country.)
His condition is hardly a secret. During press conferences, while other elected officials stand calmly in the background, the jerky motions of the 6-foot-1-inch, 195-pound Mr. Wiliams can be conspicuous. Seated for an interview in his office, Mr. Williams' sudden convulsing looked ominously like the onset of seizure – at least, to the untrained eye. His spokesman, Stefan Ringel seemed to barely notice his boss's tic, and if anything, was slightly bored by the topic. "I"m out of here," Mr. Ringel joked when the interview turned to Mr. Williams' disorder, and he proceeded to busy himself with unrelated work in the office.
Mr. Williams grew up in the Starrett City houses in Brooklyn, the largest federally-funded housing community in the country. His father is a physician, his mother a pharmacist, both from Grenada. They studied at Howard University together and settled in Brooklyn.
Mr. Williams' first informal diagnosis came while watching a 20/20 episode about the disease with his mother. "My mother said, 'That's what you have.' And I remember saying, 'No I don't'," he recalled. "Then she took me to a neurologist, and she was
correct."
By that time, Mr. Williams was in the ninth grade, and had already developed a distinctive personality as a talkative, energetic young man comfortable at the center of attention.
"Some people didn't notice," he said, even as his verbal tics increased throughout elementary and junior high school. "People just chalked it up to my personality or me acting a fool, because I was usually the class clown. So, a lot of people didn't even recognize it."
But, the tics continued and, at some point, became too much to ignore. "When they got a little worse and the vocals started getting a little more, then people noticed," he said.
Mr. Williams found an outlet in singing – he was a member of an all-city chorus – and in acting.
"When I'm acting, it kind of goes away," he said, speaking by cell phone on a recent weekend near his home in East Flatbush. "I do tic when I'm speaking publicly, but I never tic'ed when I was acting."
He trained at the Harlem School of the Arts and auditioned to study at the famed N.Y.U. Tisch School of the Arts. His grades weren't high enough for Tisch, so he attended Brooklyn College, where he studied film and continued auditioning for parts.
He had some modest success: In the opening scene of a 1998 video for the EPMD song, "Da Joint," Mr. Williams is seen bobbing his head and body with other passengers in a red jeep, sending it rocking, violently, before the group pauses to listen to an announcement from a radio disc jockey. "Russell Simmons just called me to let me know. It's official: EPMD broke up," the DJ says, and Mr. Williams and the other men burst into loud fits, bemoaning the news.
He had a slightly more memorable role in the video for the much-lesser-known group, The Solo. In the opening scene of the video for "Touch Me," a bouncer — whose vest barely covers his bulging chest — tells a line of party goers: "Sorry ladies and gentlemen.The club's full. Nobody else in." Three beautiful women near the door look at one another in astonishment as Mr. Williams, in an open-collar shirt, steps out from the line and defiantly proceeds forward. The bouncer throws his forearm into Mr. Williams' chest, pushing him up against the wall — his dreadlocks flying in the commotion. The scene causes enough of a distraction for the women to sneak into the club, and Mr. Wiliams is later seen in the background, dancing and smiling. (His gold chain broke during the scene with the bouncer, and Mr. Williams was paid $100 for the damage.)
But feeling he was being typecast as an angry, violent black man, Mr. Williams shifted his attention to his school work, and the active political scene on the Brooklyn College campus. A colleague there introduced him to an older gentleman active in Brooklyn politics, Lew Fidler, who, at the time, was not yet elected to the City Council. Mr. Fidler was running for a position on a local school board, and the two formed a working alliance.
"I agreed to attach him on the end of my slate," Mr. Fidler recalled. "In exchange, he would tack my slate on after him. And that was the beginning of a great relationship." Mr. Fidler referred to their early electoral arrangement as "an important test."
"You open proportional representation ballots and you know if a candidate does what they say they were going to do. He got like 65 number one votes and when he fell out, his votes largely went to my slate," Mr. Fidler recalled.
It was Mr. Fidler who walked Mr. Williams into the famous Thomas Jefferson Club in Carnasie, one of the power centers for Brooklyn's formidable Democratic County organization.
There, Mr. Williams was not above a good prank at the expense of his own inexperience. During one round of petitioning — the important and tedious task of gathering signatures for a candidate to appear on the ballot — Mr. Williams was asked to produce the signatures he had collected. Instead, he pulled out a stack of empty petitions and explained to the flummoxed district leader, Bernie Catcher, that he was only told to "carry" the petitions, not to put anything on them. After several long, nervous moments, Mr. Williams produced the real petitions, with hundreds of signatures.
Mr. Fidler said it was already a "legendary" tale at the club.
By the time Mr. Williams decided to run for office in 2009, the verbal tics had largely subsided – though Tourette's has no cause or cure, and there is always the chance they could return.
"He could wake up tomorrow with vocal tics again," said Tracy Colletti-Flynn, a spokeswoman for the national Tourette Syndrome Association. "It manifests itself in many different ways."
Mr. Williams saw an opening in a challenge to controversial incumbent, Kendall Stewart, after two of the councilman's staffers were convicted of stealing thousands of dollars in taxpayer money late in his second term. Mr. Stewart was never accused of any wrongdoing, but his innocence rested largely on his ignorance of what his own chief of staff and another aide were doing in his office.
The progressive, labor-backed Working Families Party, worked tirelessly for Mr. Williams and a handful of other candidates, and he eventually won the six-way race with 37 percent of the vote.
(After his victory, Mr. Williams invited his fifth grade teacher, Ms. Jeannie Nedd, to his swearing-in ceremony. "They would have kicked me out of the school I was in if it wasn't for her," he recalled."I even had tics back then. But she didn't know what it was, but she kind of figured that I wasn't doing it on purpose, although she couldn't really figure out why I was doing it.")
Brooklyn is a treacherous place for any elected official, what with the Brooklyn Democratic Party at war with a set of self-proclaimed reforms trying to upend the County organization's hold on power.
Mr. Williams seems to traverse the landscape better than most.
"County knows who I am and I think my progressive friends know who I am. I supported people like Lincoln Restler right off the bat," he said, referring to the insurgent district leader who has opposed the County organization. "I did that early on, before most electeds,"
Mr. Restler said the Councilman is busy — "saying yes to every invitation he gets" — but still reaches out to him on a wide range of issues, –"to congratulate me when I was elected for an award, or to ask about how my love life is going. He's a deeply caring
human-being."
But while Mr. Restler openly calls for the ouster of the County chairman, Assemblyman Vito Lopez, Mr. Williams is careful not to go that far.
"Vito has been great on a lot of housing issues," Mr. Williams said. "I think there's structurally some things that need to change in how County works" he said, steadfastly refusing to criticize Mr. Lopez personally. "It's problematic because, whoever is there, the way it's set up, there are going to be some people who are upset, whether you consider yourself a reformist or not."
"Our paths crossed way before he was a Councilman. I've known him about 10, 12 years," Mr. Lopez said in an interview, making it clear that their alliance was rooted in policy issues, not politics. "We have, I consider, a pretty good working relationship…an
issue-relationship." In particular, they've worked together to help 32BJ union members at Flatbush Gardens, and on local rent-regulation matters.
Mr. Williams will need all of the allies he can muster for his crusade to change the city charter.
Mr. Garodnick, the Councilman from the East Side working with Mr. Williams, identified two main problems with the budget process. The first, he said, was that "all the revenue estimates are driven by the mayor." That gives a distinct advantage to one side of the negotiations, and it's not the Council.
The second change Mr. Garodnick identified was getting greater detail about how money is dispersed in the budget.
Current budget documents do "not give the level of detail necessary to truly assess where the programmatic emphases are going to be," he said. "The programmatic emphases are not what shine through in the budget documents, but rather, just the top of the trees number, and we could do a much more thorough and thoughtful job as a Council if we had more and clearer data."
The hope is that he can convince the current mayoral contenders to agree to the change during a heated election season – before they assume the powers Bloomberg now control.
"You need to get the stuff done before people are there," Mr. Williams said of whomever will succeed Mayor Bloomberg when his term ends at the end of 2013.
Why rush to change things before a success is sworn in? "Because power has the tendency to do a lot of crazy things to people."