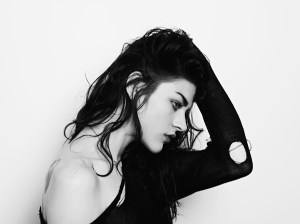 "I don't know how the entire fucking news media has my phone number," said a peppy Courtney Love earlier today. "It's like when Amy Winehouse died — everyone called."
We can't speak for our peers, but The Observer does indeed have her digits, and we had rang her to chat about the recent frenzy over her daughter, Frances Bean Cobain. A few weeks ago, the sole heir of Kurt Cobain and Ms. Love emerged in a series of black-and-white shots by photographer Hedi Slimane. They are pretty stunning. Fashion blogs spent had their way with the images, and The New York Times called the whole thing "one of the most anticipated comings of age in recent pop cultural history."
"Ugh," said Ms. Love, of the article. "I didn't like how they called her an 'It Girl.' It's tacky. It's not like she's gonna do Nylon."
Perhaps that teen magazine isn't for Frances, but she is still posing for pictures. Today another recent series, this time done for Rocky Schenck, emerged online. There's color this time!
"I really don't have anything to say…" Mr. Schenck said when reached at his Los Angeles home.
Ms. Love, on the other hand, had plenty to offer.
"I didn't know she had that many tattoos!" she said. "We don't talk but we email, so I didn't know about the new ones she'd gotten. When she first got that Jeff Buckley thing I was, like, she knows I went on a date with him, right? And I saw the Quentin Crisp, I was incredibly impressed. I was like 'Awww, that's my daughter!'
"And I didn't know about the smoking — wonder where she gets that from!"
But despite the mother-to-daughter worries over cigarettes and ink, Ms. Love was, in the end, approving.
"Well yeah she's beautiful," she said. "What else did you expect! She's my kid!"