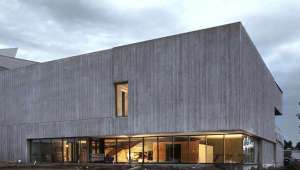 Over the objections of Christie's, the Denver City Council voted last night to approve the sale of four Clyfford Still paintings through Sotheby's in order to benefit the endowment of the Clyfford Still Museum, which is set to open in the city in November. A press official at the City Council told The Observer this morning that the decision was unanimous.
Christie's, which had competed with Sotheby's for the contract to sell the works, has argued that the nine-member task force was "arbitrary and capricious" in awarding the contract. Christie's released a statement earlier this month that said it had "made a clear, detailed and timely offer to the Clyfford Still Museum and city of Denver, and want to be sure that it is given due consideration." The firm recently hired lobbyists in an attempt convince the City Council to reject the decision.
Christie's did not immediately respond to The Observer's request for information regarding its plans, now that the Council has voted. Update: Via e-mail, a Christie's spokesperson told The Observer, "We thank the Denver City Council for their re-consideration in this important matter and look forward to the continued development of the Clyfford Still Museum."
The paintings in question include one from 1976 and three from the 1940's, which is widely considered to be Still's prime period. (In 2006, Christie's sold a Still from 1947 for $21.3 million, a figure that catapulted over its $7 million high estimate.) Sotheby's reportedly guaranteed the Mile High City at least $25 million from the sale. If the works sell privately, the house could take home as much as $15 million in commission. If they go to auction, it will receive a five percent commission or $7.5 million, whichever is less, as the Associated Press reported. (It seems unlikely that the house will net that full $7.5 million, since eclipsing that figure with a five percent commission would require selling the four works for a combined total of $150 million.)
Jan Brennan, the director of Denver's Office of Cultural Affairs, told The Denver Post yesterday, "The reason we picked Sotheby's is they had a very thorough presentation and proposal that gave us a number of options." Sotheby's has said it will offer the works privately through Sept. 19, and include them in its November contemporary art auction if they remain unsold.
Mr. Brennan described Christie's proposal as "not nearly as well-developed" and said that it did not include a provision for a public sale. A City Council member, Charlie Brown, concurred with Mr. Brennan. "Christie's came in cocky," he said. "Sotheby's was targeted and focused."
In his will, Still, who died in 1980, stipulated that the vast collection of his work that he retained should be given en masse to a city that agreed to build a museum solely devoted to his work. His wife, Patricia, opted to give the works to Denver, which had agreed to Still's terms, in 2004.