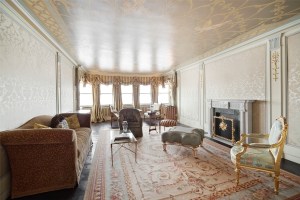 Developer Ron Moelis, the chief executive of L+M Partners, knows something about affordable homes. The apartment he and wife Kerry just purchased at 900 Fifth Avenue, however, has little in common with the Harlem housing projects he helps fund. Spanning a full 2,400 square feet, the pre-war pad is on the 11th floor of the building, and boasts views of the city skyline over Central Park.
"The client had searched for a very long time and settled on what I thought was the right apartment for them," said Reba Miller of RP Miller and Associates, who represented the Moelises on the deal.
The developer paid $4.5 million for the home, which was originally listed in 2009 for $5.9 million and then chopped repeatedly. It doesn't look like the Moelises will be able to take advantage of the roof deck and barbecue before the cold weather comes, however, as they have decided to renovate the property.
For the previous owners, however, the apartment was a luxurious and very livable home.
"It's very, very, very French," said Lauren Arpel of Town Residential, who represented the seller, listed on the deed as Adrianne Newman. Ms. Arpel noted the "magnificent art, from Matisse to Picasso," in the home. Unfortunately for the Moelises, the art was "obviously not sold with the apartment."
eknutsen@observer.com