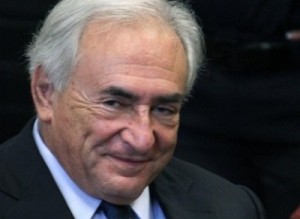 Yesterday afternoon, news broke that the Manhattan D.A. office was going to request that all criminal charges of sexual assault against former I.M.F. chief Dominique Strauss-Kahn be dropped. This followed a meeting with Mr. Strauss-Kahn's accuser, Nafissatou Diallo, and her lawyer, Kenneth Thompson. Mr. Thompson had requested yesterday that a special prosecutor be appointed to the case; his request was denied this morning. Moments ago, Dominique Strauss-Kahn sat down in a courtroom in Lower Manhattan, and received a verdict on his long-contested innocence: the case against him has collapsed. He is a free man, and the conclusion of his long, strange, epic entanglement with the American judicial system has officially began.
The motion to drop the charges against Mr. Strauss-Kahn—a French presidential would-be, prior to the allegations against him—came in the form of a 25-page confession that detailed the Manhattan D.A.'s case unraveling following what they report as inconsistencies and suspect motives in Ms. Diallo's case. Among them were a story about what Ms. Diallo reportedly characterized as rape at the hands of soldiers in her native Guinea and a denied motive to profit from the case (despite what prosecutors noted as a recorded conversation with her fiance—detained in an Arizona holding jail for immigrants—discussed profit motive).
In an unusual moment of commentary, The New York Times noted the D.A.'s statement as something maintaining a stripe of broadcast intended for readers outside the judicial system:
The prosecutors' treatise on the case seemed meant for an audience beyond Justice Obus. The case has attracted worldwide attention, largely because of Mr. Strauss-Kahn's stature, as the leader of the fund and the front-runner for the Socialist nomination for French president, and the lurid story line of a privileged man being accused of taking advantage of a hotel housekeeper. In laying out the circumstances in such detail, [Manhattan District Attorney Cy Vance] also was giving a domestic audience, including Manhattan voters, an explanation for his decision. He may also have sought to address criticism from black leaders and women's groups that he should proceed to trial.
Mr. Vance won an election in the middle of the trial; this is the second high-profile sexual assault case in Manhttan involving a controversial acquittal this year (the first was that of the infamous "rape cops" of the NYPD). The meeting between Ms. Diallo and the Manhattan D.A.'s office during which she and her lawyer were informed that a motion to drop the charges would proceed lasted a reported 30 seconds.
Mr. Strauss-Kahn's indictment was nothing if not a firestorm from the start: tabloids sought to convict him with strong language alluding to his reportedly sordid past of womanizing (another sexual assault accusation aimed at Mr. Strauss-Kahn stemming from a 2003 incident involving French journalist Tristane Banon has come to light since his arrest).
The arrest, "perp walk," and subsequent prosecution of Mr. Strauss-Kahn—reaction to which ranged from surefire conviction to reluctance to outright conspiratorial charges against Manhattan prosecutors—renewed a tension to Franco-American relations otherwise latent since the days of 'Freedom Fries' (yet, here in Manhattan, French sexual mores took a backseat to unwieldy real estate porn over where the accused would reside: a gauche Tribeca townhouse). In the beginning of July, the prosecution's case started to become unhinged: details of his accuser began leaking out along with what were reported as deep inconsistencies and questionable motives in her story. Mr. Strauss-Kahn—then under house arrest on a $1 M bail and a $5 M bond—was released on his own recognizance.
A few days later, the New York Post—who only a few weeks prior had all but characterized Dominique Strauss-Kahn as a sociopathic sex fiend who should be reputationally and, why not, physically castrated—used a single source to run a cover story alleging that Ms. Diallo was prostituting herself while under police protection. She responded by suing the New York Post for libel.
Towards the end of July, Ms. Diallo—once an otherwise anonymous maid at midtown Manhattan's Sofitel hotel—took her case to the press, with a Newsweek cover story and a three-part ABC News special interview to go with it.
The strategy backfired: it was another breaking point for both prosecutors (spurned by a plaintiff who's taken her case to the press, and a civil lawyer ever-outraged at their shortcomings) and defense lawyers for Mr. Strauss-Kahn (ever eager to find inconsistencies in her case, be they microscopic or glaring).
Since then, public support for the office of Manhattan D.A. Cyrus Vance has backfired—today, protesters waited for him outside the courtroom where Mr. Strauss-Kahn's final criminal hearing in the matter took place—while judicial support of Ms. Diallo's case (which now includes a civil suit) has not fared much better. On Monday afternoon, when the motion to dismiss charges was announced, it would seem the case against Mr. Strauss-Kahn came to a head. Her lawyer, Kenneth Thompson, noted the prosecutors' motion to dismiss the charges as "a hatchet job on Ms. Diallo's credibility."
This morning, in Manhattan Supreme Court, at 11:57 AM, Justice Michael J. Obus had heard enough. All criminal charges against Dominique Strauss-Kahn were ordered to be dropped. While he still faces a civil suit against him in The Bronx and the claims of Tristane Banon in France (to which his lawyers responded with a counter-suit of slander), the former I.M.F. chief's most heinous criminal charge is no longer; he is free to return to France, albeit a job and a surefire presidential run later. The memory of the Manhattan D.A.'s early hubris and unilateral conviction of Mr. Strauss-Kahn's guilt, its subsequent collapse—both of the procedural and emotional stripe—and Ms. Diallo are likely to remain in New York City far longer than he.
For how long and with what strength is anyone's guess.
fkamer@observer.com | @weareyourfek