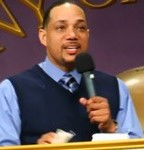 Let's not jump to conclusions.
The NYPD says no foul play is suspected in the death of a prominent pastor, Zachery Tims, of Orlando's New Destiny Christian Center, in a room at the W Hotel in Times Square on Friday night. [Update: The Wall Street Journal is now reporting that Dr. Tims was found with a "glassine envelope containing a white powdery substance."]
Dr. Tims, who was only 42 years old and is sometimes known as the "Fresh Prince of Preachers" for his marked resemblance to Will Smith, founded the ministry with just six members in 1996, growing it to a megachurch of some 8,000 today. In his 2006 memoir, It's Never Too Late: How a Teenage Criminal Found his Divine Destiny and Became a Successful Millionaire and Pastor of a Thriving Church, he wrote of his upbringing in Baltimore, his drug addiction and his conviction, at 14, of attempted murder.
Dr. Tims built NDCC with his wife, Riva, but the church was rocked by scandal in 2007, when, according to Charisma magazine, Dr. Tims told the congregation he'd committed "an indescretion," and would be stepping down. It soon emerged that he'd been having an affair with an exotic dancer, Judy Nguyen, whom he'd met on a trip to Paris. Dr. Tims returned to the ministry, but the couple' divorced, and Riva launched her own church, the Majestic Life Ministries.
This afternoon, Dr. Tims Twitter feed linked to a message about an emergency meeting, suggesting that the church would be addressing "rumors and speculations regarding Pastor Zach."
Here, video of Dr. Tims' preaching about the success of his ministry.