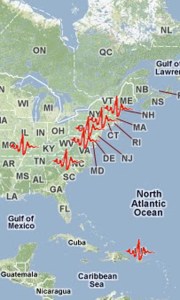 Here we were, sitting in our office, when we felt a gentle rocking. It stopped. Then we stared at each other.
"Was that just a…?!"
"WTF?"
etc. etc.
THE GREAT EARTHQUAKE OF 2011!
Here's the USGS assessment.
UPDATE:
From the Weston Observatory at the Boston College Department of Geology, USGS Outpost
Magnitude: 5.9
Epicenter: 83 miles Southwest of Washington D.C.
Buildings in Midtown reportedly evacuated! Not ours.