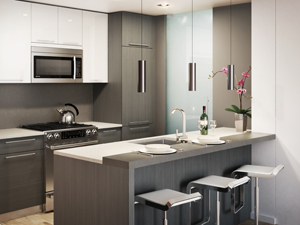 "The price I think is the biggest thing driving people higher [uptown]," said J.P. Kirk, a 41-year-old financial salesman shopping for a condo on East 109th Street. "New development has a lot to do with it."
The New York Times ran a piece last week about the Upper East Side's boundary blurring, so this week we decided to check out some open houses both below and above the traditional East 96th Street border. And while the upper-Upper East Side (which is really East Harlem) might not have all the ritzy prewar buildings found below East 96th Street, the rush of new luxury condos might appeal to those looking for a deal in a growing neighborhood.
The Karl Fischer-designed luxury condos at 333 East 109th Street come with amenities many Upper East Siders must live without—a gym, a courtyard jacuzzi, walk-in closets and in-unit washer and dryers (and note the kitchen in the photo). The apartments are super-sleek and "more equipped  for modern Manhattanites," said broker Grace Chan.
"This area is more open, more quiet," Ms. Chan said of the neighborhood as compared to the more traditional Upper East Side. "Quality of life is different. There's more light, more space."
The new luxury building probably mark an encroaching gentrification of East Harlem, something alluded to in The Times story. The prices are certainly pre-gentrification, though: available one- and two-bedroom units at 333 East 109th Street run from $329,000 to $595,000. Check back in five years.
The apartments in this building, with high ceilings, hardwood floors and shiny new appliances, have all the marks of a new luxury development and are a far cry from the other, more traditional apartments we looked at.
A two-bedroom apartment at 535 East 72nd Street, #3CD, like the units 37 blocks uptown, has a washer and dryer as well as hardwood floors, but the price is much higher. The prewar co-op is asking $899,000, which might be worth the extra money if you're looking for that classic Upper East Side charm.
The apartment, which could be combined with the above unit to create a townhouse of sorts, overlooks the East River, has creaky hardwood floors (just like in grandma's house!), built-in bookcases and a wood-burning fireplace. It's the antithesis of new luxury apartments; it trades sleek, new furnishings for an old and quaint feel.
Another apartment, an alcove studio at 340 East 74th Street, was in line with the price range of the luxury condos in East Harlem, listed at $399,000, but didn't have the brand-new interior. However, the neighborhood was what attracted potential buyer Maria Burgio, a 25-year-old talent manager.
When asked what she thought about the Upper East Side extending further upward, she said: "I see that trend happening, but right now I'm more comfortable below 96th Street."
The broker for the apartment pointed out that many buyers isolate a smaller area when looking for a new home.
"Usually [buyers] define neighborhoods, like the '60s and '70s or '80s and '90s," said Sharon Fahy. "It's very definitive usually."
Whether the Upper East Side boundary is truly extending or not (we think not), the areas both above East 96th Street and below it seem very in-demand right now. Not even Sunday's deluge could keep the buyers away.
pengel@observer.com