Downside of having a technology company once completely beloved but now that everyone's more than ready to delete their account from? Watching it grow large enough to actually find yourself surprisingly irritated with some of its components at times. Welcome to Mark Zuckerberg's life, or at least fifteen minutes of it.
Thanks to a tipster who sent in the following screengrab late last night, now we know: even Mark Zuckerberg can find himself being annoyed by Facebook's excessively invasive, extraordinarily stupid apps at times. In this case, one of his "friends," early Facebook employee and co-inventor of Facebook Platform—the reason all these Facebook apps exist, now—Dave Morin installed an app hilariously called "Chill" on his Facebook. Chill ostensibly has something to do with watching videos with other people, but as is the case with any other Facebook app, who knows? As such, when it installs, it uses your status and sockpuppets words from you for the app. Like so: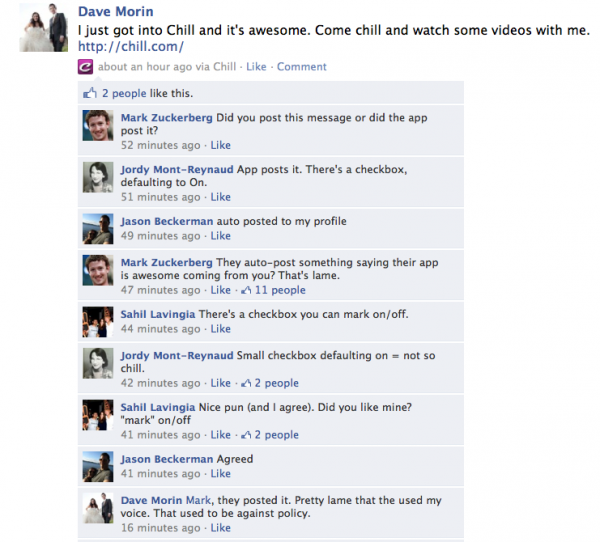 If he didn't before, know he knows how we all feel. Remember the good old days when apps weren't allowed to treat you like that demon did Linda Blair/we used to work together before an Oscar-winning screenplay was based on what a bad friend you are?
Also, to anybody who's installed Mafia Wars or any Facebook app, really, you too should be given some draconian social punishment for inflicting the endlessly stupid messages coming through our Newsfeed. Casual poll: Does anybody over the age of 13 actually use these things? Either way, we couldn't check Chill because we don't have an invite, but if anyone who does wants to let us know if Zuck has been 'chill' over this or if he shut down the app's ability to let everyone know how much you want to (use) Chill, please give us a shout.
UPDATE: Chill apologized to Facebook and its users, and apparently talked it out with Mr. Zuckerberg, too.
fkamer@observer.com | @weareyourfek