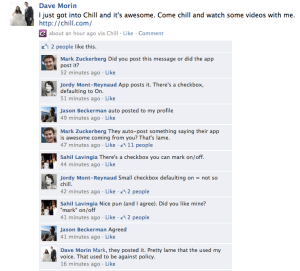 Earlier today, we reported on a conversation a tipster saw on Facebook: a new Facebook (META) app called Chill—where you watch videos together with your friends, basically—had inserted an automated message into former Facebook staffer Dave Morin's newsfeed after he installed it. The message read: "I just got into Chill and it's awesome" and telling all of Dave Morin's friends to join him. Facebook founder Mark Zuckerberg saw it, and was not chill over it, noting of the automated message: That's lame. Well, after hearing what Facebook's founder had to say about it through the Observer, the people behind Chill decided they agreed, and scrapped the automated feature.
Their groveling apology to the King of Facebook begins with noting that their initial expectations for Chill signups were far exceeded! So much so, in fact, that Mr. Zuckerberg saw it:
I just got an email from a few friends that Mark Zuckerberg wasn't pleased about a message posted to Path founder Dave Morin's wall from Chill. Upon registering for Chill.com, we included a checkbox in 12-point font (pre-checked) on the setup form that would post to your wall and let your friends know you've signed up for Chill.
After noting that other applications on Facebook have features like that, Chill founder Brian Norgard decides to take the high road (or: the road when you've been outed in front of Mark Zuckerberg for getting busted over a somewhat routine practice he's not cool with) and scrapped the feature:
So what are we going to do? We've already removed this feature. Why? We want there to be no question about our motives. We're a small startup obsessed about building something that people really love. Video should be more social, immersive and fun. I've already messaged Mark and let him know about the changes. He was actually really cool about the whole issue, which I appreciate.
Today, Facebook may be less spammy! But it is also a little less Chill. For that, we apologize, but it was likely coming anyway. Though it looks like Chill may have overreacted a little, given that Dave Morin—the former Facebook staffer whose wall the conversation initially appeared on—noted in the comments to Chill's apology:
Great post guys. The thing that Mark and I were reacting to was not the publishing of the story to my Wall, but to putting a string of text into the text field automatically. This is effectively the same thing as putting words into my mouth.

The stories which you display as examples do not do this. They post a piece of content, but do not use the user's "voice".

As a builder of Internet things, my opinion is that the user should always be in control of their "voice".

I don't think you need to turn off this feature, you just need to move the content to it's correct place in the Facebook interface. If you'd like to give the user the option to say something about Chill when posting, just add a simple form field which allows them to type in a little note before posting it.

Other than that, I think Live is a major new trend on the Web. What you guys are doing is really cool. Norgard I had no idea you were behind this. Let me know how I can help.

Dave
That said, a lot of people in tech don't know how to eat crow properly, if ever. This is probably one of the better ways to go about it: unilateral over-admission of guilt followed by extreme course-correction. Which, if you're lucky, is followed by the guy whose wall you invaded in the first place now realizing it was you, who he knows, who he's down to help out. And being the type of person whose wall Mark Zuckerberg does Facebook's QA testing on, there are worse guys to have in your startup's corner.
fkamer@observer.com | @weareyourfek