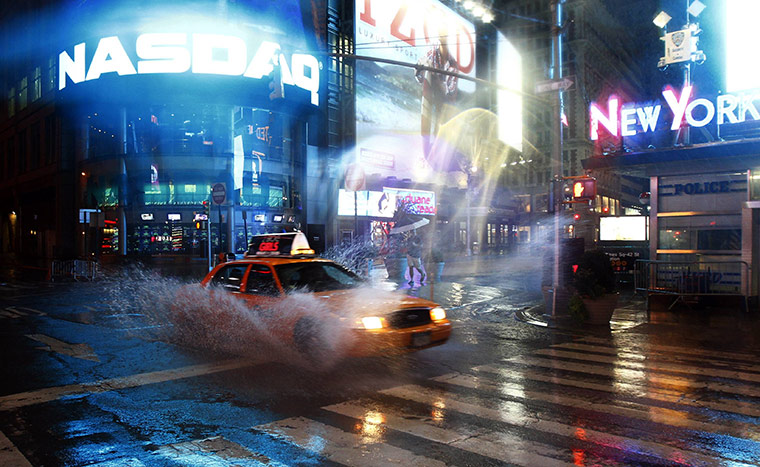 It rained Saturday night! The Wall Street Journal sent reporters to far-flung locales such as Long Island City and Crown Heights, where places decided to stay open despite the fake hurricane that, it turns out, never actually existed. Some barkeeps and deli owners thought, hey, a hurricane has never hit New York before. Maybe it'll just rain a little. Maybe I can make an extra buck. Maybe things will be OK.
And that's what happened! They might have gotten a little bit wet, but they did great business.
A Slice of New York in Times Square was doing a brisk business, probably thanks to cooped up tourists, but the candy store around the corner, on 44th and 9th Avenue, was not. That should change when a certain group of men and women return to their desks.
So in the end, things turned out to be fine or, for some people, better than fine.
On the Lower East Side Saturday, The Observer walked by a vigorous daytime rager at Epstein's, where Jerry Ferrera—Turtle on Entourage—and guys in lacrosse pinnies danced to the Black Eyed Peas for hours. Good for them. Later in the night, as the drizzling rain switched to bona-fide rain showers, we drank at Iggy's until they closed, prematurely, due to the city warnings.
No matter: there was a secret late-night party held at a beloved closet-sized French diner nearby, where the twenty people present went through bottle after bottle of red wine, the girls dancing on the bar to "Empire State of Mind" and other songs chosen from YouTube. A soccer match beamed from Europe played on the TV and no one watched. Orchard Street was eerily quiet otherwise, the opposite of most Saturdays, and as the night went on the party picked up more wet-haired stragglers, who gamely joined in on the loud impromptu hurricane party.
And it was a good one. The red wine poured as hard as the rain did, dancing kids knocked over tables, the night got later and later. A pack of cigarettes that was full was suddenly empty. And finally the whipping wind and downpouring rain subsided slowly to nothing as morning—and sun—soon came peeking out of the clouds.
We'll take a hurricane next week, too, please.