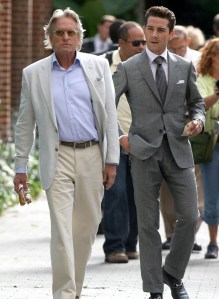 Today's SEC collar of the day? A father-son duo! Book 'em, Schapir-o!
'Remember that oil rig that exploded after the Deepwater Horizon oil rig gave the Gulf of Mexico a nice sheen of Texas Tea? Like many Americans, your reaction may have been something akin to: Jesus. Seriously? Jesus. Well—pun unintended—that's Mariner Energy. They were purchased by the Houston-based and sensitively-named Apache Corporation last year. From 2006 to 2010, Clayton Peterson, 65 was on Mariner's board of directors, when he wasn't living "alternately in Denver, Colorado; Phoenix, Arizona; and Cabo San Lucas, Mexico," as the SEC complaint notes. And yes, we know what you're thinking: No noble son of Cabo San Lucas is a criminal.
Unfortunately, Mr. Peterson disgraced the great name of the greater Cabo San Lucas area when he found out that Mariner was about to be purchased in April, and told his son, Drew Peterson.
Drew's 35, lived in Denver, and at the time, was the director of a financial advisory firm called Blind Seven (already checked on Urban Dictionary; no dice) that he had run since 1999. Cut to April 15, 2010: the CEO of Apache goes on CNBC to break the news about buying Mariner:
If you owned shares of Mariner at that moment, you probably had a good day.
Well, The Peterson Boys had a better day. A few days before that. Via the SEC:
On the evening of April 7 or the early morning of April 8, 2010, Clayton Peterson contacted Drew Peterson and stated that he had recently attended Mariner board of directors meetings, which concerned positive developments for the company. During that telephone call, Clayton Peterson explicitly told Drew Peterson to purchase Mariner stock for Clayton Peterson's daughter and Drew Peterson's sister, who maintained an account at the investment advisory firm where Drew Peterson was employed.
That's not illegal.
This, however, is:
After speaking to Clayton Peterson, Drew Peterson purchased 2,000 shares of Mariner stock for his sister's account on the morning of Thursday, April 8, 2010.
Okay, criminal and stupid. Could they get any stupider?
Later that same day, Clayton Peterson visited Drew Peterson's office at the investment advisory firm where Drew Peterson worked.
He obviously went to tell his son that they should dump the stock and confess to insider trading before they got busted for what couldn't be any more blatant of an inside pickup. Ha, no, actually, he told him to load up on shares of Mariner like they were on sale at CostCo:
During that meeting, Drew Peterson informed his father that he had bought 2,000 shares of Mariner stock for his sister and Clayton Peterson told Drew Peterson that he should buy even more Mariner stock for her.
And did he! Drew left the office, picked up another 2,000 shares for his sister, and 500 for Blind Seven. Two days later, he picked up another 1,000 for Blind Seven, 1,200 for himself, and 1,000 for his niece. He then arranged for four of his Blind Seven clients to pick up 4,100 shares, and for a close friend to pick up 500. The next day? Another 1,000 Mariner shares for Blind Seven.
In the span of a few days, Drew Peterson picked up 13,100 shares of Mariner. Basically the day after that, the news broke. And after the news broke on CNBC, Mariner tanked. Ha, just kidding. Maybe in Opposite Land. You know what happened:
Following the announcement, Mariner's share price rose approximately 42 percent, from $18.09 (the closing price on April 14) to $25.68 (the closing price for April 15). Drew Peterson reaped approximately $9,000 for himself, $19,000 for his investment club Blind Seven, $42,000 for his sister and his niece, and $32,000 for his four clients and a close friend.
For such small pennies, how'd they get busted? Remember, kids: Pigs get slaughtered. Drew tipped off his hedge-fund homies in New York:
Among the close friends who Drew Peterson had tipped was a hedge fund portfolio manager who reaped approximately $5 million in illegal profits for himself, his hedge funds, and his relatives.
The complaint names them as "Hedge Fund A Portfolio Manager," and wow, would we love to know who that guy is. Anyway, the Peterson Men pleaded guilty, the SEC wants the money back, wants Clayton to go back to Cabo and never serve on a board again, and their investigation is ongoing.
SEC BUST BREAKDOWN:
RELEASE HEADLINE: "SEC Charges Former Mariner Energy Board Member and Son with Insider Trading." A little bit of Dallas meets Gossip Girl. Energy and father-son criminal issues. Family drama at the back, generally unrecognizable company in the front. 7.2/10.
THE COLLAR: Likely an overtanned father/son duo who didn't make more than a hundred grand, but it's a lot in Pesos.  5.2/10.
THE HOOK: Slimey hedgie who made out better than everyone else ratted the Mariner Boys out to the Feds. Likely came away clean from this and got a GOOJF Card from it, too. 6.7/10.
SCORE: 6.36. Should've listened to James Taylor. Or Jimmy Buffet.
PREVIOUS FINANCIAL CRIMINALS OF THE DAY:
MLB All-Star Doug DeCinces – August 4, 2011.
fkamer@observer.com | @weareyourfek