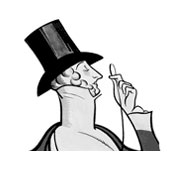 The 2011 New Yorker Festival will take place in the city between Sept. 30 and Oct. 2, and The Observer obtained a copy of the lineup. That means we get to see the pairing-up of New Yorker writers and their celebrity counterparts. They did a crack job this year!
Here it is, accompanied by some light marginalia.
Kelefa Sanneh and Aziz Ansari (if he survives Fashion Week that is!)

Judith Thurman and the architect Shigeru Ban

John Lahr and the actress Ellen Barkin (she has a boyfriend who can qualify for the "Twenty Under Forty" list in 2025)

Susan Morrison and the actor Chris Colfer (the talk of the town, indeed )

Nancy Franklin and the singer Barbara Cook

David Denby and the film director David Cronenberg (expect 30 minutes on the Eastern Promises sauna scene)

Henry Finder and the evolutionary biologist and author Richard Dawkins

Rebecca Mead and the author Geoff Dyer

David Remnick and the author Jonathan Franzen (dudes!)

Andy Borowitz and the actor Zach Galifianakis (jokes!)

Ian Frazier and Janet Malcolm

Peter Schjeldahl and the actor and art collector Steve Martin (Perhaps some banjo action from The Jerk, too?)

Atul Gawande and The National (no fair, lead singer Matt Berninger is married to Carin Besser, who edits stories for the magazine. Nepotism!)

Jane Mayer and the former Speaker of the U.S. House of Representatives Nancy Pelosi (look for Ms. Mayer's BFF, Jill Abramson)

Ariel Levy and the actress Amy Poehler

John Seabrook and the band Scissor Sisters (will they take Mr. Seabrook's mama out all night afterward?)

Sasha Frere-Jones and the singer-songwriter St. Vincent (yes, yes, yes!)

Michael Specter and the actor Owen Wilson (he is, after all, a writer whose prose is in "a kind of obsolete vernacular").
There will also be roundtable discussions on fiction between T. Coraghessan Boyle, Joyce Carol Oates and George Saunders; Chang-rae Lee, Tim O'Brien, and ZZ Packer; Junot Díaz, Jennifer Egan, and Yiyun Li; Jeffrey Eugenides, Nicole Krauss, and Jhumpa Lahiri; and Karen Russell, Gary Shteyngart, and Colson Whitehead.
A panel on film will bring together Laura Dern, Edie Falco, William H. Macy and Jeremy Irons, and there will also be a screening of Ralph Fiennes' new film Coriolanus, followed by a discussion with the actor and Anthony Lane.
All these great minds giving you an appetite? The New Yorker's got that covered, too!
Brunch at the Breslin Bar and Dining Room, at the Ace Hotel, followed by a talk with the restaurant's chef, April Bloomfield, her co-owner, Ken Friedman, and Lauren Collins.
Not eating again until October, right guys?

There's plenty more, but let's just end with one more item gleaned from the lineup: "Malcolm Gladwell will look at the virtues of obnoxiousness."