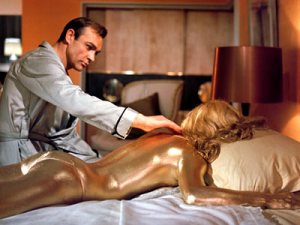 IN 2008, I was on the losing end of a gold trade—swindled, really.
By my dad.
I had just been laid off after the literary agent I worked for was poached, but was lucky enough to find a job and not have to file for unemployment only days later. In the interim between paychecks, however, I'd be broke.
"Well, you've got those coins lying around," he suggested.About ten years prior, as a bar mitzvah present, a relative gifted me with an ounce of gold in Australian Roo coins. I had two options: I could borrow the money I needed and pay it off, or trade my father the coins to sell (or do whatever he wanted with them) for the best price I could get quoted.
I needed drinking money. I didn't need Kangaroo Coins. Who the hell did? Not the 23 year-old who responded:
"SAHARA COINS in Vegas off of Sahara and Teneya. $862.89."
The email came back:
"Consider it sold–Love, Dad."
On January 14th, 2008—the next day—gold broke $900 for the first time.
In March, it would break $1,000.
A little over three years later, gold has come close to doubling what it was when I sold it for a bunch of cab rides to Brooklyn, a nice dinner or two, a pair of jeans, and some truly awful nights at the Cherry Tavern. On July 23rd, 2011, gold broke $1600. As of this writing, it's at $1637.50.
Maybe it's time for Dad to sell.
"GOLD AIN'T LIKE NOTHIN' ELSE," Dennis Gartman—famed trader, economist and author of The Gartman Letter—explained over the phone from Suffolk, Virginia.
"Whatever it is, for whatever reason, it is embedded in the DNA of human beings to admire and hold gold. And if you try to ascribe rationality to gold, you're wrong."
And what Gartman characterized as irrational human admiration appears to be at an all-time high. Gold prices are rising and may continue to defy the typical physics associated with the success of any asset like it. As long as the market continues to believe in its intrinsic value.
What was simply a Wall Street go-to inflation hedge—or: an investment that theoretically protects against the decreased value of a currency, like the dollar, which has seen better days—has become a pop investing phenomenon. It's of interest to people who could care less about the goings-on of Wall Street, many of whom can barely distinguish a stock quote from a stock recipe.
And inasmuch as media enthusiasm is a barometer for investment popularity, the headlines have been accumulating faster than a goldbug at the end of a rainbow. A May cover story for the yuppie-centric New York Times Magazine detailed a surveyor: "Gold Mania in the Yukon," was the headline. On the cover: "The hunt for the world's most primitive form of wealth starts here." An April headline from the front page of the Wall Street Journal: "World is Bitten by the Gold Bug." On Monday, in the Accessories section of Women's Wear Daily: "New High for Gold Prices."
Gold even had its own celebrities now, the kind less famous for their investment ideas than they are their mugs. For a period of time, Glenn Beck so relentlessly shilled for the yellow stuff both on his show and in commercials for consumer gold trade-in service Cash 4 Gold that it merited a December 2009 segment on The Daily Show. This was almost a full calendar year after Cash 4 Gold purchased a 30 second ad during—what else?—the Super Bowl.
It was the same month the Journal reported on a woman named Margaret Petrucell, the founder of It's a Gold Mine Party, LLC. In the great tradition of Tupperware and Mary Kay and Avon, suburban housewives were having parties to sell their gold and walk away with shopping money. The founder, who before starting her business, was laid off by Goldman Sachs' mortgage division, joked that "What happens at a gold party stays at a gold party."
But it doesn't. If anything, gold mania has spread like a contagion.