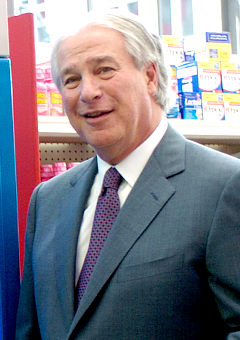 Duane Reade has recently been busy rehabbing its image—a refrigerated beer cave selling vintage beer brands in Williamsburg's, a sushi bar in Wall Street's, etc—after being routinely criticized for (among other things) slow service. Which is mostly tolerated because, well, it's just everywhere. Well, that image took a slight hit today, when the drugstore chain's former President and CEO Anthony Cuti was sentenced to three years in prison for fraud. UPDATE: Statement from Mr. Cuti's defense team below.
Via the U.S. Attorney for the Southern District of New York's office, basically:
From November 2000 through June 2005, CUTI and WILLIAM TENNANT, the former Chief Financial Officer ("CFO") and Senior Vice President of Duane Reade, engaged in a scheme to misrepresent Duane Reade's financial performance. The scheme involved: 1) the reporting of inflated income from fraudulent real estate transactions; and 2) the artificial reduction of expenses through fictitious credits from vendors who did work for Duane Reade.
Mr. Cuti was also hit with a decent tab, payable to Preet Bharara & Co.:
In addition to the prison term, Judge BATTS sentenced CUTI, 65, of Saddle River, New Jersey, to three years of supervised release. CUTI was also ordered to pay a $5 million fine and a $500 special assessment fee. Restitution will be determined at a later date.
Filed under "Things Your Club Card Won't Help With." Meanwhile, while Duane Reades across the city are shinier than ever, alas, they still have long lines. Though now, with one less person to wait in them.
UPDATE. Mr. Cuti's defense team writes in with their statement:
While at the helm of Duane Reade, Mr. Cuti led the growth of the company from a small drug store chain to a local institution
[…with long lines…]
in less than ten years, dramatically changing the landscape of New York City in the process.  Duane Reade became one of the largest commercial retail tenants in the City in terms of the number of stores and square footage.

Mr. Cuti is deeply disappointed with the sentence imposed by the court.  As the court determined, neither Duane Reade nor any investor could be shown to have lost money as a result of the transactions at issue.   Nor was it demonstrated that Mr. Cuti personally profited from the transactions.   Mr. Cuti plans to vigorously appeal the verdict.
fkamer@observer.com | @weareyourfek