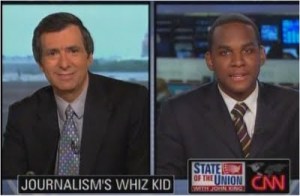 Is Myles Miller about to become New York's youngest editor?
The precocious politics beat reporter was recently named associate editor at the Huffington Post, to work on a not-yet-announced HuffPost vertical produced for and by high schoolers.
(A demographic which has been asking Arianna Huffington for a platform.)
As of a month ago Mr. Miller, 17, was a metropolitan correspondent for the International Business Times. Prior to that, he was embedded at City Hall for Examiner.com. And before that he worked for the Daily News while attending the NYC Lab School. He's covered two presidents for two different news organizations. He's already mastered the New York media job hop!
Request for comment was bounced to Huffington Post special projects editor Julia Steers who said there wouldn't be much to say about the site until about the time school goes back in session.
In the mean time, Myles, enjoy it–your youth, empty days, summer in New York—while you can!