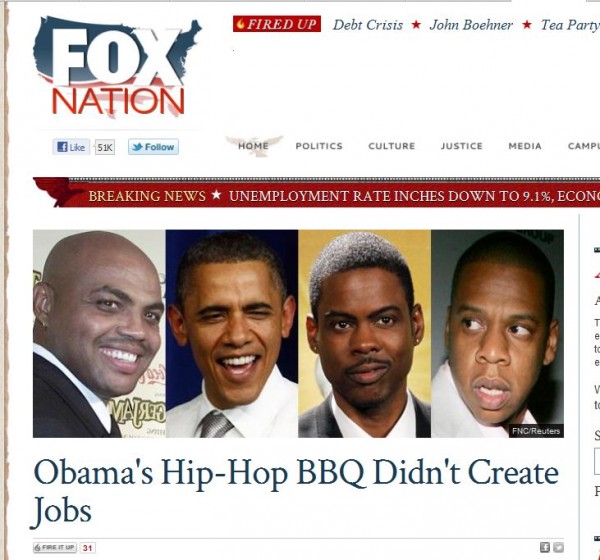 Media Matters screen-grabbed what you're seeing on the left from the Fox Nation website earlier today. Yes: it's real. They didn't provide context, but we will. 
Media Matters has already noted that Fox Nation are expert race-baiters, but for sheer moxie, this is fairly impressive. If you didn't know, Fox Nation is Fox News' attempt at creating a news-aggregation site, kind of like the Huffington Post, but with sociopathic content being less of a byproduct and more something to aspire to. Consider this an achievement in the art: the "hip-hop" figures pictured above are, left-to-right, former NBA all-star Charles Barkley, President Barack Obama, comedian Chris Rock, and one full-time hip hop figurehead, Jay-Z. So why's it a "hip-hop BBQ"? The guest list, with anybody directly affilated with "hip-hop" emboldened:
Al Sharpton, Patrick Gaspard, UBS Investment Bank President Robert Wolf, FCC Chair Julius Genachowski, Leader Nancy and Paul Pelosi, Secretary Tim Geithner, Secretary Arne Duncan, U.S. Trade Rep. Ron Kirk, Secretary Hillary Clinton, Attorney General Eric Holder, Secretary Kathleen Sebelius, Rep./DNC Chair Debbie Wasserman Schultz, former Virginia Gov. and DNC Chair Tim Kaine, Anita Dunn and Bob Bauer, Robert Gibbs, David Axelrod, David Plouffe, Valerie Jarrett, Michael Strautmanis, Pete Rouse, Bill Daley, Deputy Chief of Staff Alyssa Mastromonaco, Denis McDonough, John Brennan, Rahm Emanuel, Tina Tchen, White House chef Sam Kass, Julianna Smoot, Marty Nesbitt, Eric Whitaker, Linda Douglass, and many more.
Also, the celebrity list:
Jay-Z, Hill Harper, Chris Rock, Charles Barkley, Steve Harvey, Tom Hanks and Rita Wilson, Grant Hill, Gayle King.
That's a total of one, and one who's been critical of Mr. Obama's record of creating jobs. The Politico column they aggregated the report from was this morning's Playbook, which had the headline:
OBAMA WORKING ON NEW ECONOMIC PROPOSALS – Stevie Wonder sings at Obama's unlisted b'day blowout – Dancing in East Room w/ Chris Rock, Hillary Clinton – Mayor Emanuel praised on jobs approach
Radically different. The one "hip-hop" element that could theoretically substantiate that headline? Well, there was this:
Also present: Chicago pals, law-school friends, donors – and lots of kids of friends, who stole the show by doing dance routines to the hip-hop songs, in the center of the East Room.
…which counts for something if you've never been to a wedding, bar mitzvah, or any other social occasion where you're forced to dance to a Black Eyed Peas song.
We contacted Politico's Mike Allen to ask how he feels about this bit of creative re-purposing and if they have a content sharing deal that allows this kind of re-appropriation of their work. He emailed back:
Thank you for checking. No, we don't have a content partnership. Appreciatively, —Mike.
Looks like someone at Fox is about to get a pissed off email from Politico. We'll update if Politico takes any action or if Fox scrubs the post.
UPDATE: Fox News comments on "Hip Hop BBQ" post.
fkamer@observer.com | @weareyourfek