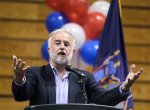 The National Republican Campaign Committee has included Suffolk County Congressman Tim Bishop on a list of incumbent House Democrats that they are making robo-calls against.
The calls try to pin the dismal state of the economy on the Democrats.
According to a script provided by the NRCC:
Hello, I'm calling from the National Republican Congressional Committee with an important alert about your Congressman Tim Bishop. While some are changing the conversation in Washington to one of spending cuts and economic growth, Tim Bishop is part of a group making a bad economy worse. You feel the disastrous effects of Tim Bishop's policies every day as gas prices go up, your grocery bill gets higher, you see more foreclosure signs pop up in your neighborhood and more Americans feel uneasy about their jobs. Call Congressman Tim Bishop at 202-225-3826 and tell him to stop punishing middle class families. Paid for by the National Republican Congressional Committee. 320 First Street SE, Washington, DC  20003.  Not authorized by any candidate or candidate's committee. 202.479.7000.
In 2010 Bishop defeated Republican Randy Altschuler by a few hundred votes after Altschuler won a fiercely contested Republican primary. The G.O.P united behind Altschuler early this year in hopes of avoiding an intra-party skirmish, but those plans were dashed when George Demos decided on a re-match.
For now though, D.C. Republicans are keeping the heat on Bishop.
"Tim Bishop's job-destroying agenda is forcing New York families to pay higher prices for everyday items at a time when they can least afford it," said NRCC Communications Director Paul Lindsay. "It's time for Bishop and his fellow Democrats to stop making a bad economy worse and start lifting the fear and uncertainty that will encourage job creators and small businesses to provide much needed relief for New York's middle-class families."