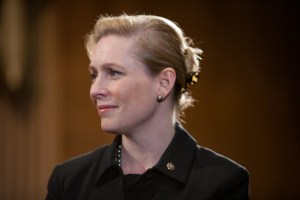 Starting in Harlem tomorrow morning, Senator Kirsten Gillibrand will make a Schumer-esque, five-borough tour in less than 48 hours.
The slew of events will touch on everything from employment, to same-sex marriage, to first-responders, to the military — and will give her a chance to rub elbows with more than a dozen downstate elected officials.
It all begins with an Urban Jobs Act event alongside Congressman Charlie Rangel, Assemblyman Keith Wright and the National Urban League.
Then it's on to the Bronx for a meeting with clergy about that borough's underemployment. It's a similar subject in Queens that afternoon with State Senator Jose Peralta, Assembly Member Francisco Moya, Councilmember Julissa Ferreras.
Then it's on to Manhattan, where an ensemble cast of elected officials who helped push for New York's same-sex marriage bill are co-sponsoring an event tomorrow titled "After I Do," to help gay couples figure out what happens next.
The event — organized by State Senator Daniel Squadron and headlined by U.S. Senator Kirsten Gillibrand — will be part practical advice on how to manage the overlapping laws of New York state and the federal government, and part political rally to keep advancing the national cause. Gillibrand has targeted repeal of the Defense of Marriage Act as the next step in advancing marriage equality, though it's unclear how that bill might advance through a Republican-controlled House, where the cause is being championed by Lower Manhattan Rep. Jerrold Nadler. (Among the co-sponsors is Congresswoman Carolyn Maloney, who briefly flirted with a primary challenge to Gillibrand after her appointment.)
After that, she will attend the birthday celebration for El Diario publisher Rossana Rosario.
The next morning, it's a press conference in Staten Island on first-responder technology, and then a private tour of Fort Hamilton at the far end of Brooklyn.
Which one is State Senator Ruben Diaz upset about? Not the one you would think.
"When Senator Kirsten Gillibrand meets with Bronx ministers tomorrow to discuss the unacceptable unemployment rate for our Bronx youth, I hope they ask her to explain her silence when Governor Andrew Cuomo rammed his budget through the legislature costing jobs for our youth, cuts in education for our children, and loss of the home care attendants for our seniors," Diaz said in a statement that didn't even mention same-sex marriage.
Gillibrand — like most of the state's members of Congress — didn't have too much to say about the state budget, but at she did vote against the Bush tax cuts and against the recent deficit deal at the federal level.
Here's the flier for the post-same sex marriage event in Manhattan: