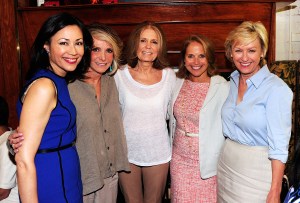 Gloria Steinem either was or was not interested in talking about The Playboy Club, the upcoming NBC series depicting the milieu in the buxom-bunny warrens where she'd worked, undercover, in the 1960s. "It's defunct, it doesn't exist anymore," she told The Transom, adding to comments in another interview in which she told Reuters she hoped the show suffered a boycott. "It didn't seem to be worth television time when it's on, so why now?"
She paraphrased the author Rita Mae Brown for us. "Under assault from women, or the gay movement, men in power have two responses: the very worst indulge in sadomasochism, the rest indulge in nostalgia."
Happily, the girls' club at La Grenouille was much more pro-feminist (every invited guest was a woman, though the reporters were all men, a group to which Ms. Steinem referred in a brief speech as "honorary women"). That doesn't mean that the group was anti-nostalgia, though: each attendee, including reporters who'd never met Ms. Steinem, was asked to summarize her memories of Ms. Steinem in three words or less.
"No ashtrays," said Fran Lebowitz.
"Opened all doors," said Glamour editor Cindi Leive. ("Not all," rebutted Ms. Lebowitz.)
"Essential. Formidable. Witty," said Tina Brown.
"I have four words: a woman who loved us," said Ann Curry, employing five.
"Autonymous," said Kim Cattrall. ("Can you spell it?" asked her tablemate Peggy Siegal.)
"No midriff bulge," said Ms. Siegal.
Reader, we said "Electrifying."
But is Ms. Steinem "influencing viewing habits"? (That three-word limit is hard for those not seeking to pull a Curry.) We asked HBO documentary president Sheila Nevins if she'd boycott The Playboy Club. "I have very bad feet. I don't think I could march. My marching days are over. Is she marching?"
The Transom told her we believed Ms. Steinem was just trying to convince people not to watch the show. "That won't be hard," said Ms. Nevins.
We interrupted a conversation between a Condé Nast editor and Sex and the City actress Kim Cattrall over Ms. Cattrall's inability to lure a romantic interest to visit her on location. "We're having too much fun!" said Ms. Cattrall.
Would the woman who played Samantha Jones watch The Playboy Club? "I don't think so, no. I don't think I would." Feminist leanings? Ms. Cattrall's voice went cold. "I think I've seen enough, really."
ddaddario@observer.com :: @DPD_